Renault F1 managing director Cyril Abiteboul insists the cost of hiring Daniel Ricciardo for this year is good value for money – even if the team is not expecting to win yet.
In the new season of Formula E, the series has introduced a Mario Kart-inspired "Attack Mode" race format to enhance overtaking and maintain strategy elements in races. We discuss the system's effectiveness and compare it to other overtaking aids in motor
Founder of ROC, Fredrik Johnsson, talks to Motorsport Network's Julia Piquet about how far the Race Of Champions has come, this year's event in Mexico and plans for future venues.
F1 Racing executive editor Stuart Codling is joined by ex-Formula 1 driver-turned-pundit Karun Chandhok at Autosport International 2019 to discuss the fast approaching 2019 F1 season. Karun offers his thoughts on potential surprises and who will come out

In this new series of articles we are going to uncover the incredible detail of Formula 1's most iconic cars, drawing from the huge collection of illustrations painstakingly crafted by Motorsport.com's legendary illustrator and technical analyst Giorgio Piola.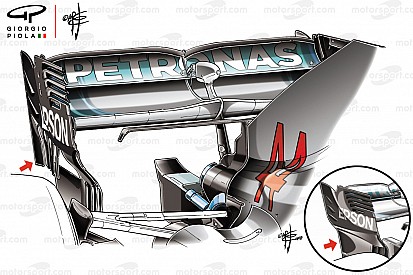 Mercedes' season got off to a slow start, as the team grappled with another, at times, temperamental machine. Forced on to the backfoot by a fast-starting Ferrari, and unable to get the best from the tyres, the team took its time and set about rectifying deficiencies without panic.

Ferrari mounted another assault on the Formula 1 World Championship in 2018, and while it looked to have got the better of Mercedes in the opening phases, its title aspirations fell agonisingly short of the target once again.

The RB14 continued to carry the DNA of Red Bull's previously successful cars, as it pressed on with the same title-winning chassis philosophy, only making alterations in order to comply with the prevailing regulations.

Renault, a fully manufacturer-funded team, may have come across as underachievers in the last few seasons, but having retaken control of the ailing Lotus entity at the backend of 2015 it has had to go through a few growing pains.