As part of a restructuring of Formula 1's finances from the start of 2013, the FIA has calculated its entry fee for teams based on the number of points scored in the previous season.
Motorsport Network's Julia Piquet recaps Sunday's racing action from the Race of Champions in Mexico City, and asks F3 European champ Mick Schumacher about what it means to him to be a part of Ferrari's F1 Driver Academy.
Former F1 driver Esteban Gutierrez talks to Motorsport Network's Julia Piquet after getting knocked out by this year's ROC winner Benito Guerra.
Motorsport Network's Julia Piquet talks to F3 European champion Mick Schumacher about his ROC debut, and racing (and beating!) Sebastien Vettel in Sunday's Race of Champions group stage.

In this new series of articles we are going to uncover the incredible detail of Formula 1's most iconic cars, drawing from the huge collection of illustrations painstakingly crafted by Motorsport.com's legendary illustrator and technical analyst Giorgio Piola.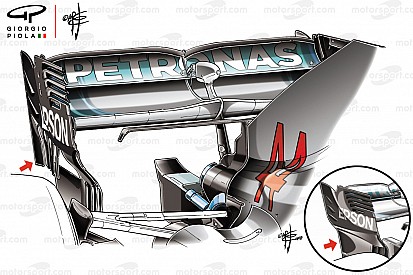 Mercedes' season got off to a slow start, as the team grappled with another, at times, temperamental machine. Forced on to the backfoot by a fast-starting Ferrari, and unable to get the best from the tyres, the team took its time and set about rectifying deficiencies without panic.

Ferrari mounted another assault on the Formula 1 World Championship in 2018, and while it looked to have got the better of Mercedes in the opening phases, its title aspirations fell agonisingly short of the target once again.

The RB14 continued to carry the DNA of Red Bull's previously successful cars, as it pressed on with the same title-winning chassis philosophy, only making alterations in order to comply with the prevailing regulations.

Renault, a fully manufacturer-funded team, may have come across as underachievers in the last few seasons, but having retaken control of the ailing Lotus entity at the backend of 2015 it has had to go through a few growing pains.