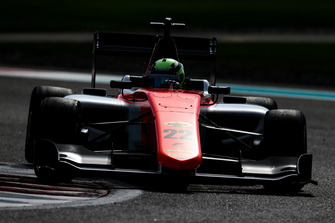 Filters:
Championship
Driver
Team
Event
Location
Article type
Macau Grand Prix winner Richard Verschoor has revealed that he clouted the wall while leading the race and damaged his steering.

Macau GP
MP Motorsport's Richard Verschoor scored a giantkilling Macau Grand Prix victory after fending off Red Bull junior Juri Vips in the new Formula 3 car's Guia circuit debut.
Red Bull junior Patricio O'Ward says he "never felt slower" after an "ass-whipping" on his Formula 2 debut, but said the sprint race was a "major leap forward".
Red Bull-backed Patricio O'Ward is set to contest this weekend's Formula 2 races in Austria, replacing banned MP Motorsport driver Mahaveer Raghunathan.
The FIA will investigate a rule which allowed banned Formula 2 driver Mahaveer Raghunathan to race on in the series in the Paul Ricard weekend.
MP Motorsport Formula 2 driver Mahaveer Raghunathan has been banned from the championship's next round in Austria after amassing 12 penalty points.
Ex-Renault Formula 1 reserve Artem Markelov will replace the Indy 500-bound Jordan King at MP Motorsport in a shock return to the Formula 2 Championship in Monaco.

MP Motorsport has completed its Formula 2 line-up, with Jordan King making a return to the series alongside his IndyCar commitments.

Red Bull junior programme newcomer Liam Lawson will race in FIA Formula 3 alongside his previously confirmed Formula European Masters commitments.

In 2018, the junior single-seater scene was full of exciting talent, shown best by Mercedes, Red Bull and McLaren each bringing an F2 star into Formula 1. Motorsport.com ranks the top 20 youngsters of the year.
European Formula 3 race-winner and Racing Point Force India Formula 1 junior Jehan Daruvala will join the GP3 Series grid in Abu Dhabi this weekend with MP Motorsport.
Ex-Manor Formula 1 driver Roberto Merhi has parted ways with MP Motorsport, with Dorian Boccolacci taking the Spaniard's vacant seat in Formula 2 this weekend at Spa.