Roundtable - Cutting costs in NASCAR
Our team of experts debate some of the biggest topics in NASCAR this week.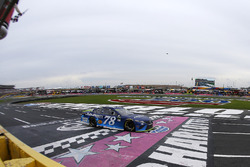 Martin Truex Jr. picked up his sixth win of the season last Sunday at Charlotte. He's clearly a favorite to make it to the final four of this year's playoffs. Do you think it's the team's alliance with Joe Gibbs Racing, a switch to Toyota, new personnel on the team or a combination of all three that has made him the driver to beat.
Jim: I think it's a combination of three things. First, I have always believed Martin Truex Jr. is a talented driver but has never really been connected to a team with the best resources like is now. Second, I think Cole Pearn is probably one of the best crew chiefs in the Cup garage and one thing I have learned in almost 20 years of covering NASCAR is how important the relationship between driver and crew chief is. And third, Toyota and Joe Gibbs Racing have top-notch equipment and resources. Put them all together and you have Truex's 2017 season.
Lee: Furniture Row Racing won the lottery by aligning with Toyota — a manufacturer that's willing to put its money where its mouth is. Not only does the organization start with top-of-the-line equipment, they don't have to invest hours on developing engines and chassis. That work is already incorporated into the product and Furniture Row simply refines it. While FRR added a second team this year, the No. 78 team still has crew chief Cole Pearn and team engineer Jeff Curtis at its nucleus concentrating solely on its efforts.
Nick: It's definitely a combination: An alliance with Toyota, the fact that their entire focus is on the No. 78 and that they have one motivated wheelman in Martin Truex Jr. They've put all the pieces together and I don't really see a chink in their armor.
Tim: I think Martin Truex Jr., the Furniture Row team and crew chief Cole Pearn have just found that "Lightening in a Bottle" that many teams and drivers search for in the sport during their careers. Also aligning with Toyota and Joe Gibbs Racing has proved to be a key ingredient of everything meshing together at the right time. Truex has the talent and Pearn has proven he's one of the bright young leaders in NASCAR.
Kevin Harvick had his best complete race performance since the spring leading the most laps and in contention all day at CMS. Could he and his team be pulling a "Jimmie Johnson-type of run" heading into the second half of the playoffs?
Jim: Harvick's team, and Stewart-Haas Racing in general, has really taken a step up over the past month. It finally all came together for Harvick at Charlotte, but he certainly showed what they were capable of at Dover as well. Now, the No. 4 team has to clean up the "details" as Harvick said - put a complete race together on the track and on pit road. I believe they will and we haven't heard the last from them in regards to the 2017 championship.
Lee: I was encouraged to see speed by the Nos. 4 and 41 Stewart-Haas Racing Fords on an intermediate track. Harvick is the type of driver that can win anywhere. And like Johnson, you never really count him out. As disappointing as the Team Penske Fords have been in the playoffs, it's promising to see Harvick running this well for the Blue Oval camp.
Nick: They've made a step in the right direction, but I don't think they're quite there yet when it comes to taking the battle to the Toyotas. In the end, they still won. And if I had to place my bets on anyone mounting a so-called "Jimmie Johnson-type of run", it would be Jimmie Johnson.
Tim: For fans of Harvick and those who feel Toyota was going to run away with the championship this season, they have to feel good about the recent performance of Harvick. While Talladega is always a big unknown for many drivers in the playoffs, if Harvick can keep the momentum going he'll be visiting tracks – like Phoenix and Homestead – where he's historically ran very strong and won races. I do like his chances to be one of the final four come Homestead.
The final eight have been set for the NASCAR Xfinity Series. Any surprises for you in that field of drivers?
Jim: Not really but I did expect Elliott Sadler to be more of a contender for wins in Round 1 than he was. We saw strong performances from Justin Allgaier and William Byron in the first round but Sadler's best finish was sixth in the playoff opener at Kentucky. The regular season champion is going to need to run up front and win some races if he is going to collect his first NASCAR championship.
Lee: No. There's such a disparity when it comes to equipment and drivers in the NXS that the top eight teams in the playoffs are truly representing the cream of the crop.
Nick: The opening round went as suspected, but I am going to be playing close attention to this upcoming round. This is when we could see a surprise elimination that could alter the championship complexion.
Tim: No big surprises for me, however, as Jim Utter stated in his answer, I expected Elliott Sadler to run a little stronger. The best teams and equipment with their drivers are performing as I expected in the playoffs so far.
The cutoff race for the first round of the NASCAR Camping World Truck Series playoffs ends this week. What do you think will happen during the race on Saturday?
Jim: I expect a chaotic race - but aren't most of the Truck races at Talladega? - especially with the race determining who will advance to Round 2 of the playoffs. GMS Racing was very stout in the season opener at Daytona, with Kaz Grala winning the pole and race and Johnny Sauter leading the most laps. I expect they will factor into the outcome on Saturday. I also expect Brad Keselowski Racing teammates Chase Briscoe and Austin Cindric will lay it all on the line in order to continue their race to the championship.
Lee: It's Talladega where anything can happen and usually does. The only two drivers that are safe are Christopher Bell and Ben Rhodes — the drivers with wins. Thirty-three points separate the bottom six drivers in the playoffs, so mathematically no one is safe. I would like to think the two champions — Matt Crafton and Johnny Sauter — will survive but fifth through eighth in the standings is sketchy.
Nick: Chaos. Talladega is the most unpredictable race on the calendar and even without the current stakes, the tension there is always high. As for what will transpire, anything I say is a blind guess. This track will take your expectations and predictions and turn them upside down in the blink of an eye. The points situation will look very different from five laps to go to the checkered flag.
Tim: I just say to buckle up and hold on for Saturday. With Christopher Bell and Ben Rhodes the only drivers who can start the race with no worries for the next round, the rest of the contenders are all close enough together in the standings, no one will know the entire playoff contenders until the checkered flag falls on Saturday afternoon. Between now and then I expect another white-knuckle type of race and a lot of action – and yes maybe accidents too – in this key race for the NASCAR trucks.
Brian France has said recently that NASCAR is looking at ways to limit costs or spending that teams are doing in the top series of NASCAR. What would you propose to cut spending if you were in charge and secondly, how could this be handled by the sanctioning body – if at all?
Jim: Unfortunately, my experience has shown that every time NASCAR has implemented a rule to "reduce costs," teams still find a way to spend the extra money. The only thing that seems to really "cut costs" is the economic climate. In other words, costs go down when teams get less money from sponsorships and thus have less money to spend. The foundation of this sport is a collection of independent contractors so I'm not sure how NASCAR could issue some blanket spending cap. And while NASCAR certainly could get into the business of issuing all the car parts themselves, I'm not sure an IROC-like racing series is what will attract new fans or entertain the current ones.
Lee: Travel and personnel are the greatest expenses for a race team. The driver salary piece of the puzzle is already correcting itself. From a travel standpoint, cutting the length of the weekends is a good place to start — and the sport is working on that. While the media still has to be at the track for all three series or two series or whatever, one-day shows for each series is more than enough time to turn things around and race.
Nick: There are several fronts where they could cut costs, but like Jim said, the teams will still find ways to spend that money. And I think Lee hit the nail on the head with one of the simplest solutions: shorter race weekends. 
Tim: This reminds of taking the college class where the professors are so disconnected in the real world that their 'theories' sound good but in real-world scenarios are almost impossible to implement. I feel this is the case of Mr. France's idea. Yes there are things that can be done to cut costs on travel days, etc., but I think just short of making it like IROC where there is one house for parts, cars, etc. there will be no way to keep check on all the teams and their spending. NASCAR has always treated teams as private contractors for decades and I just think the current business models wouldn't help. Plus, which is key, I don't think the fans or manufacturers would like an IROC-type of business model. In short, I don't think there is an easy way for this to happen at all.
About this article
| | |
| --- | --- |
| Series | NASCAR Cup |
| Drivers | Kevin Harvick , Kurt Busch , Martin Truex Jr. , Elliott Sadler , Justin Allgaier , Christopher Bell , Ben Rhodes , William Byron , Kaz Grala |
| Teams | Stewart-Haas Racing , Furniture Row Racing , JR Motorsports , Kyle Busch Motorsports , GMS Racing |
| Article type | Special feature |
Roundtable - Cutting costs in NASCAR