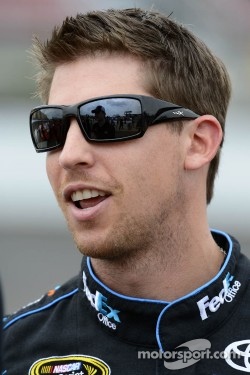 Denny Hamlin, Joe Gibbs Racing Toyota
DENNY HAMLIN, No. 11 FedEx Express Toyota Camry, Joe Gibbs Racing
How do the Nationwide cars handle at Indianapolis? "It's different. You're using a lot more throttle, but the cars drive pretty similar to the Cup cars. It's a pretty easy transition from the Cup car. I was a little nervous coming from the Cup practice over here to run Nationwide qualifying, but for the most part it's been pretty seamless. The cars are driving pretty good."
Are you able to transfer information between the Nationwide and Cup cars? "It's moving over. Our head engineer Mike Wheeler, on the Cup side , came for the practice day on Thursday. That was pretty critical I think in helping our Cup efforts. Since the cars are driving so similar it's easier for us drivers to switch."
How do you approach each corner at Pocono? "In Pocono you have to be very disciplined as you enter turn one. They have marks on the side of the wall and you want to discipline yourself to use those marks so you don't overdrive the corner. You try to get all the exit speed off of (turn) two as you can -- you shift into fourth (gear) about 200 yards past turn two to try to get that long run right before you get to the tunnel turn. For my approach, I try to arc into the tunnel turn just as wide as I can to make sure I get that long, low line on the exit of the tunnel to make sure I get a good line into turn three. Into turn three, you're just trying to carry all that speed you can because that front straightaway is so important for passing that you have to get position on a guy off of turn three. You want to carry as much throttle as you can, but down shift right in the center of three, make sure you pull the up shift right before you get to the start-finish line."
What do you think about on the long straightaways at Pocono? "You just think about what you can do to make it better. You're constantly -- as a race car driver you're thinking, 'What can I do this next corner to make my previous one better?' You're constantly downloading that information and with those long straightaways at Pocono, you've got the time to do it."
How does Indianapolis change with the weather conditions? "It's finicky -- it's very weather sensitive. When the sun comes out, the handling of the race car changes dramatically. You're constantly battling with that and so from my standpoint you're battling the weather as much as you are the conditions of your race car."
Do you feel different at Indianapolis? "You do, there is so much history here. So many of the announcements that you hear just for Indy -- it's just a different feel. Gasoline Alley, the garage stalls that we have -- everything is different than what we have at a normal race track. For me, it's the top priority as far as winning in my book."
What do you expect from the new tire when you return to Michigan? "I think that we're going to have a little better left side (tire) than what we raced. I thought we had a good left side tire for practice, but some people were cording them up. NASCAR changed it and it really killed our car. I think going back, we should be pretty good. Goodyear said that they have a little softer tire that they're going to try and in my opinion, that's going to put on a better race."
How different is this stretch of race tracks -- Indianapolis, Pocono and Watkins Glen? "It's different, but Pocono and here (Indianapolis) do translate -- I feel like the two tracks, they correlate with each other. You run the setups vey similar at Pocono as you do Indy. We took our Pocono setup and applied it here and it seemed to be good. The next two weeks are going to be about the same, but once you go to the road course, it's a totally different mindset and then you're on the defense from that standpoint. Attrition is the biggest issue that you fight at a road course."
What was it like to be a part of the American Century Championship golf tournament in Lake Tahoe? "It was so much fun to be a part of that and have a chance to play golf with some of the guys that you grew up watching on a football field or a baseball field. To get invited to it was great. I finished dead middle of the pack, so not bad for my first time. Definitely looking for a whole lot more when I go back there next year."
Did the off-weekend fall at a good time? "It's great that it works out to be during that time. It's so much fun. I would be golfing somewhere anyway if it wasn't there so to have a competition, have it on TV and everything -- it was great."
Did you enjoy visiting the Philadelphia Eagles training camp Friday? "That was pretty cool to go there and obviously I had met a few guys before. I was a huge fan of Michael Vick at Virginia Tech -- just grew up watching those guys. To be able to catch a pass from Michael Vick at the end of the day and try to kick a field goal -- that's fun for me. We were out there trying to promote the Truck race and the Cup race for Pocono. We had a successful day and I feel like all those guys quickly became race fans."
Do you have any specific victory celebration? "I really don't have any ritual or thing that I have. (Brad) Keselowski has the American flag and Kyle (Busch) has the bow and Carl (Edwards) with the back flip. I just try to do the best burnout that I possibly can and just give the fans a treat."
Source: Toyota Motorsports