Michael Waltrip Racing
Despite Indy car opportunities over the years Martin figured he should stick with stock cars
CORNELIUS, N.C. – Sunday marks the biggest day of the year in American motorsports with the running of the Indianapolis 500 and the Coca-Cola 600 at Charlotte Motor Speedway.
No. 55 Aaron's Dream Machine driver Mark Martin began his racing career at a time when drivers were more evenly divided in pursuing a stock car or an open wheel racing career.
For the Batesville, Ark., native, an open wheel career was never a serious option until later in life.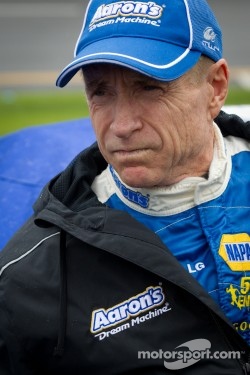 Mark Martin, Michael Waltrip Racing Toyota
"I was always a late model or NASCAR guy," said Martin, who returned to late model racing in the late 1980s after his first two years in NASCAR.
"Actually in my career I was a late model-NASCAR-late model-then-back-to-NASCAR kind of guy until I finally established myself in the sport."
Once established in NASCAR, Martin admitted he was tempted to climb into one of the high speed racers.
"I had numerous chances to drive one of Robby Gordon's Indy cars when we had the same sponsor in the 1990s," Martin recalled. "They just wanted to let me go play."
He said wisdom prevailed.
"I had struggled so hard to get into NASCAR and I had finally got to where I could win some races. At that point in time I saw no reason to go out and 'have fun' in an Indy car," recalled Martin.
"My idea of having fun in an Indy car would be to go faster than Robby Gordon which would be real dangerous to try. I figured I would be better off sticking to stock cars."