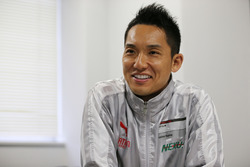 Driver
Tomonobu Fujii
1980-12-17 (age 39)
Filters:
Championship
Driver
Team
Event
Location
Article type

Aston Martin factory driver Nicki Thiim has been added to D'station Racing's driver line-up for the 2020 SUPER GT season.

Aston Martin is convinced D'station Racing can be a frontrunner in SUPER GT's GT300 class next year despite a gruelling first season in the Japanese series for the team.

Aston Martin has had no presence in Super GT for the last six years. But now that it is back in the Japan-based series with its new generation Vantage GT3, it means business.
Toyo Tires and Flying Lizard Motorsports put their hard work to the ultimate test in the 25 hour sports car endurance event

Andrea Caldarelli and Ryo Hirakawa braved difficult conditions at Okayama to take the first Super GT win of the season.
The team qualified the #45 Audi R8 LMS in the 6th position in the GTD class of the TUDOR United SportsCar Championship.
Two Audi customer teams to contest 24-hour race in Florida (USA).
The team returned to the Daytona International Speedway with the Audi R8 LMS
Will attend the Roar this week for pre-race practice.
Avoiding Typhoon Neoguri...

Mok Weng Sun repeats his 2013 victory.

The battle for the top spot was waged between 2013 Fuji race winners Stefan Mucke and Frank Yu in the Craft-Bamboo Racing Aston Martin and Rui Aguas in the 'Spirit of Race' Ferrari 458.

The successful Asian Le Mans Series team returns to the Dubai 24H.

The points haul was enough for Craft Racing to secure 2nd place in the GTC class and claim the coveted invitation to the 2014 24 Hours of Le Mans in France.

Tsugio Matsuda topped qualifying to put No. 18 KCMG Morgan-Nissan LM P2 on pole for tomorrow's 3 Hours of Sepang

The two green Aston Martin Vantage GT3's will take to the grid in the GTC class along with a brand new Craft Entry in an Oreca-Nissan Prototype in LMP2.

Khalid Al Qubaisi: I have never felt like this ever in my life, I can't explain it...

The German sports car pilot Stefan Mücke recently was testing in the USA and flew to Dubai to race in the desert. "A great opening" to the 2013 season. Next he will return to America for the 24 Hours at Daytona!

Repeating their maiden win from 2012, the Mercedes-Benz SLS AMG GT3 team was strong again with Khalid Al Qubaisi, Sean Edwards, Jeroen Bleekemolen, and Bernd Schneider.

Asian team has years of experience in motorsport but this will be their first attempt in the 24 hours of Dubai.