Subscribe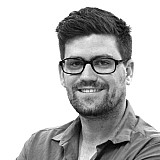 James Courtney and Rick Kelly will each start one of this afternoon's V8 Supercars races from pole position, following two frantic qualifying sessions.
In the first 10-minute session, Courtney walked away with his second pole position of the season after emerging on top from a frantic final few moments.
Courtney was quick throughout the session, dropping into the 1m07s bracket before anyone else early in the session, and then backing it up with a 1m07.119s on the second of his decisive final two laps at the very end.
The Holden Racing Team driver displaced Chaz Mostert from pole, also bringing the Prodrive youngster's impressive run of pole positions to an end.
"I missed a couple of braking markers on my first lap, and that's where the time was lost," Mostert explained after missing out on a fifth consecutive pole.
Jamie Whincup bounced back from a quiet Friday to nab third for Triple Eight, while Fabian Coulthard locked out the second row.
Shane van Gisbergen and Mark Winterbottom were next, with Rick Kelly and James Moffat doing well for Nissan to shut out the fourth row of the grid.
Craig Lowndes was just ninth, Scott McLaughlin was the best Volvo in 14th, while Will Davison struggled to 21st.
Kelly goes fast on softs
In the second session, run exclusively on the softer Dunlops, Kelly brought a pole-less streak that stretches back to Sandown 2011 to an end.
The Nissan driver popped up on top of the time sheets with a 1m06.292s on his only flying lap of the session, a time which gives him both the official qualifying lap record, and makes him overall the fastest man ever around Hidden Valley in a V8 Supercars.
"I tell you what, we didn't expect pole," he said. "[I'm] really excited about that. We had to sort of guess what grip was going to be on offer, and the car's been great."
Coulthard was second fastest on the soft tyres, falling 0.012s short of Kelly after running a two-lap final stint rather than just one, with Mostert grabbing third.
Van Gisbergen and Lowndes were fourth and fifth, while Michael Caruso capped off a good session for Nissan with sixth.
Race 13 pole-sitter was seventh, while McLaughlin improved from the first session to 11th for Volvo.
Meanwhile, it was another tough session for Erebus, with Davison again the best down in 21st – despite being just 0.759s off pole.
Qualifying for Race 13
| | | | | |
| --- | --- | --- | --- | --- |
| Pos  | Driver  | Car |  Time  |  Gap  |
| 1  | James Courtney | Holden | 1'07.1190 |   |
| 2  | Chaz Mostert | Ford | 1'07.1485 | 0.0295 |
| 3  | Jamie Whincup | Holden | 1'07.1744 | 0.0554 |
| 4  | Fabian Coulthard | Holden | 1'07.1750 | 0.0560 |
| 5  | S.van Gisbergen | Holden | 1'07.2141 | 0.0951 |
| 6  | M.Winterbottom | Ford | 1'07.2202 | 0.1012 |
| 7  | Rick Kelly | Nissan | 1'07.2222 | 0.1032 |
| 8  | James Moffat | Nissan | 1'07.2859 | 0.1669 |
| 9  | Craig Lowndes | Holden | 1'07.3284 | 0.2094 |
| 10  | Tim Slade | Holden | 1'07.3323 | 0.2133 |
| 11  | Dale Wood | Holden | 1'07.3554 | 0.2364 |
| 12  | David Reynolds | Ford | 1'07.3627 | 0.2437 |
| 13  | Jason Bright | Holden | 1'07.4124 | 0.2934 |
| 14  | Scott McLaughlin | Volvo | 1'07.4641 | 0.3451 |
| 15  | Garth Tander | Holden | 1'07.4881 | 0.3691 |
| 16  | Nick Percat | Holden | 1'07.4915 | 0.3725 |
| 17  | A.Heimgartner | Ford | 1'07.5265 | 0.4075 |
| 18  | Todd Kelly | Nissan | 1'07.5318 | 0.4128 |
| 19  | Michael Caruso | Nissan | 1'07.6356 | 0.5166 |
| 20  | Scott Pye | Ford | 1'07.6652 | 0.5462 |
| 21  | Will Davison | Mercedes | 1'07.8027 | 0.6837 |
| 22  | Tim Blanchard | Holden | 1'08.0375 | 0.9185 |
| 23  | Ashley Walsh | Mercedes | 1'08.0695 | 0.9505 |
| 24  | Lee Holdsworth | Holden | 1'08.4101 | 1.2911 |
| 25  | David Wall | Volvo | 1'08.6941 | 1.5751 |
Qualifying for Race 14
| | | | | |
| --- | --- | --- | --- | --- |
| Pos | Driver  | Car  |  Time  |  Gap |
| 1  | Rick Kelly | Nissan | 1'06.2920 |   |
| 2  | Fabian Coulthard | Holden | 1'06.3046 | 0.0126 |
| 3  | Chaz Mostert | Ford | 1'06.4290 | 0.1370 |
| 4  | S.van Gisbergen | Holden | 1'06.5028 | 0.2108 |
| 5  | Craig Lowndes | Holden | 1'06.5562 | 0.2642 |
| 6  | Michael Caruso | Nissan | 1'06.6160 | 0.3240 |
| 7  | James Courtney | Holden | 1'06.6376 | 0.3456 |
| 8  | Tim Slade | Holden | 1'06.6398 | 0.3478 |
| 9  | Scott Pye | Ford | 1'06.6606 | 0.3686 |
| 10  | M.Winterbottom | Ford | 1'06.6662 | 0.3742 |
| 11  | Scott McLaughlin | Volvo | 1'06.6890 | 0.3970 |
| 12  | James Moffat | Nissan | 1'06.7035 | 0.4115 |
| 13  | David Reynolds | Ford | 1'06.7221 | 0.4301 |
| 14  | Jason Bright | Holden | 1'06.7355 | 0.4435 |
| 15  | Todd Kelly | Nissan | 1'06.7599 | 0.4679 |
| 16  | A.Heimgartner | Ford | 1'06.7653 | 0.4733 |
| 17  | Jamie Whincup | Holden | 1'06.7742 | 0.4822 |
| 18  | Garth Tander | Holden | 1'06.7982 | 0.5062 |
| 19  | Lee Holdsworth | Holden | 1'06.9515 | 0.6595 |
| 20  | Nick Percat | Holden | 1'07.0503 | 0.7583 |
| 21  | Will Davison | Mercedes | 1'07.0513 | 0.7593 |
| 22  | Tim Blanchard | Holden | 1'07.3868 | 1.0948 |
| 23  | David Wall | Volvo | 1'07.4151 | 1.1231 |
| 24  | Dale Wood | Holden | 1'07.5723 | 1.2803 |
| 25  | Ashley Walsh | Mercedes | 1'07.7643 | 1.4723 |