R2B2 Racing press release
Brainerd race offers Troxel and team a chance to have some fun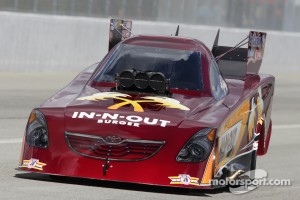 Melanie Troxel aboard her In-n-Out Burger Toyota Camry
BRAINERD, Minn. (Aug. 16) -- The long summer grind of the Full Throttle Drag Racing Series leaves teams searching for an outlet, and on the NHRA tour the top pressure-reliever is the 30th annual Lucas Oil Nationals at Brainerd International Raceway.
Case in point: Melanie Troxel and her In-N-Out Burger Funny Car race team.
"We're coming to Brainerd looking for two big wins," said Troxel, the only female racer in history with victories in both Top Fuel and Funny Car. "We want to win the Lucas Oil Nationals, and we want to win the rickshaw race over in the 'Zoo.' Those are our goals."
Troxel's first target is obvious -- she wants to collect her second win of the year and first in the Funny Car class. Her second objective is unique to BIR and it's infamous 'Zoo' campground, where fans have been gathering by the tens of thousands for years to celebrate a nitro weekend in the heart of Minnesota's vacationland.
"Brainerd is the craziest race of the year, without a doubt," Troxel said. "It's one of those deals that has to be experienced in person to truly understand and appreciate. The fans up there live for this race and they support it like nothing else. The Zoo has grown into this legendary campground party and all the drivers and crew people love to go over there and party with everyone. It's very unique and a whole lot of fun.
"A couple of our crew guys are fired up for the rickshaw race. Chris (Abbott) is going to pull the rickshaw with me in it. He's probably the most fit guy on the team and he's been dragging Charlie (Mitchell) around the shop training for this. He says we're going for the win so I'm behind it 100 percent."
Of course, there is a real drag race happening amidst all the fun and Troxel says her race team continues to improve, albeit at a slower rate then she would like.
"We're constantly refining our set-up," Troxel said. "It's been frustrating at times because we're working so hard, but we know you can't expect overnight miracles. Aaron (Brooks, crew chief) and John (Medlen, vice president of R&D) have made some fairly big changes in the last few weeks and we're close to putting a new chassis into service as well so we're hoping to pick things up down the stretch.
"Our focus remains on winning races. We have Brainerd and Indy left before the playoffs start and we want to make as much noise as we can. Our desire to succeed hasn't changed one bit and I'm as proud of this group as any I've ever worked with in the past."