Yamaha Factory Racing's Jorge Lorenzo delivered a signature scorching performance this afternoon to take his fourth consecutive Laguna Seca pole position start ahead of tomorrow's Grand Prix of USA. The Championship leader was straight into the top spot at the beginning of the qualifying practice and was only challenged by rival Casey Stoner towards the end of the session. Lorenzo responded in the last seconds with an incredible lap, coming from a slow first split to an unbeatable last taking pole 0.074 seconds clear. The time of 1'20.554 stands as a new lap record for the circuit.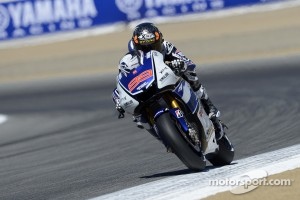 Jorge Lorenzo, Yamaha Factory Racing
Ben Spies continued to show the consistent fast pace in evidence from the first practice yesterday, moving quickly up to the top five early in the session. The Texan was provisionally on the front row for some time before dropping just outside it to fourth. A big high side at turn three threatened to bring an end to his qualifying however he made it back and out again on his second bike to complete the heat. He starts on the second row in fourth, 0.54 seconds from pole.
Jorge Lorenzo
Position 1st - Time: 1'20.554 - Laps 33
"I knew Casey and Dani were going to try and take pole but I really wanted it here in America so I tried my best for Yamaha. I pushed to the limit, especially in the last corner, I was at full lean and opened the throttle really soon. In my first two tries for a perfect lap there was a lot of traffic so I had to wait for the right moment. The important thing is tomorrow, pole position is nice but anyway the race is what counts."
Ben Spies
Position 4th - Time: 1'21.094 - Laps 27
"Today was ok, we obviously had a crash which was unfortunate as I think we could have got on the front row. I was feeling really good I just maybe didn't let the right side of the tyre heat up to quite the right temperature and had a pretty big high side. Anyway we got back out and were able to do the same times as before the crash. I need to get some x-rays to check my heel as I took a big hit on it in the crash."
Wilco Zeelenberg - Yamaha Factory Racing Team Manager
"A fantastic qualifying and a spectacular last lap by Jorge making a new lap record. We have a good pace and a good package to fight for victory tomorrow. We'll have to wait and see what the temperature is going to be as it's very cold in the morning then warms up a lot!"
Massimo Meregalli - Yamaha Factory Racing Team Director
"A great pole from Jorge, he's putting a lot of pressure on the Honda guys. Ben had a big crash using the second soft tyre during the qualifying. Anyway, he's pretty consistent and happy with the bike set up and hopefully tomorrow he will be 100% fine to ride. I'm pretty confident because he's finished all the practices in the top four and we know which tyre he is going to use."
Source: Yamaha Racing