Mercedes: Hamilton's Abu Dhabi 'anarchy' may force racing rethink
Mercedes says that Lewis Hamilton's defiance of team orders in the Abu Dhabi Grand Prix may force a total rethink on its approach to racing next year – or even sanctions against the British driver.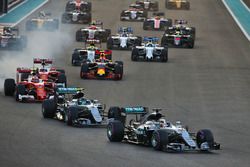 In a bid to try to get cars between himself and Nico Rosberg, which he needed if he was to win the title, Hamilton deliberately drove slowly to push his German teammate in to the cars behind him.
Mercedes felt the situation risked the team losing the victory – especially when Sebastian Vettel switched to fresh supersoft rubber later on – and kept urging Hamilton to pick up his pace.
But Hamilton chose to ignore the team's requests, leaving team management clearly frustrated at the end.
With Mercedes having worked hard to keep things equal between its drivers – which has included policies like the lead driver getting preferred pit stop strategy – team boss Toto Wolff says that Hamilton's actions may now require the team to adjust its approach in 2017.
He also did not rule out taking specific action against Hamilton for what happened.
"We need to look at the overall situation and say what does it mean?" said Wolff about what response his team planned to take after Hamilton's stance.
"Everything is possible, from let's change the rules for next year because it doesn't work in those critical races, to maybe we want to give them even more freedom in racing each other. 
"Or we could go to the more harsh side that we feel the values were not respected. This is 180 degrees, and I'm not sure yet where the needle is going to go."
Wolff said that he partly understood why Hamilton adopted his policy to back-up Rosberg, but equally he felt that a public act of defiance against a team order was incorrect.
"One half of me says with 1,500 people at Brackley/Brixworth, and 300,000 at Daimler, that creates values and you have to respect those values. Undermining a structure in public means you're putting yourself before the team – that's very simple. Anarchy doesn't work in any team or any company.
"The other half says it was his only chance of winning the championship at that stage and maybe you cannot demand a racing driver that is one of, if not the best out there, a real guard dog in the car, to comply in a situation where his instincts did not make him comply.
"It's about finding a solution to solve the problem in the future because a precedent has been set. Let me sleep over that and come up with a solution."
Mercedes deserves credit
Wolff said that finding a response that would keep the drivers, team and fans happy was not easy – as he felt Mercedes deserved credit for letting its drivers race against each other over recent seasons.
"It's not an easy one," he said. "All throughout these last three years we've really tried to create an environment, and creating values in the team. One of the reasons is the individuals that are in charge of this team and the drivers are very much part of it and they bought into these values.
"You cannot invent a rule for every single situation. This is motor racing, it would make it the most boring sport ever if you would have corporate solution for every single situation.
"We saw a highly entertaining race, with lots of controversy to talk about, lots to write about it. Isn't that at the end of the day what we want to achieve? 
"The tricky bit here is what does it mean for the future of the team and how can we progress and not be over corporate and boring – but allow them to race.
"It wasn't acknowledged that we have let them race over the last three years. We could have had a much smoother run and decided either you are going to win or you are going to win. This is how it happened in Red Bull and Ferrari many years ago, and maybe in other teams.
"I'm not sure we are in the credit-taking business, because it needs headlines, but we have coped quite well with that situation the last three years."
Subscribe and access Motorsport.com with your ad-blocker.
From Formula 1 to MotoGP we report straight from the paddock because we love our sport, just like you. In order to keep delivering our expert journalism, our website uses advertising. Still, we want to give you the opportunity to enjoy an ad-free and tracker-free website and to continue using your adblocker.
Become a subscriber.
Disable your adblocker.