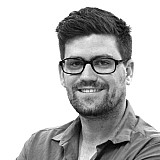 V8 Supercars drivers are prepared to "deal with" the SuperSprint format for the remainder of the season, but overwhelmingly agree that the 60-60 Saturday races don't work.
It was announced today by V8 Supercars that the twin 60-kilometre races on Saturdays will stay for the remainder of the season, after potential changes to the format were discussed by the V8 Supercars commission this week.
But the news hasn't been well received by the drivers, with Chaz Mostert, James Moffat and James Courtey – the top three from today's second practice session – all agreeing that changes should be made.
"For me, I think it's definitely wrong [not to change it]," said Courtney.
"I think everyone knows it, everyone is saying it, fans are asking for something different, everyone wants something different."
Mostert agreed that, based on feedback he's received from fans, a change would be better.
"The general talk around the paddock from fans is that they want to see longer races, and more passing moves," he said.
"And not just longer races, more action. Pretty much where you qualify is where you're going to finish."
Prepared to "deal with it"
While all three drivers supported the idea of a new format, Courtney explained that he understood the decision from V8 Supercars on a commercial level.
"In the end there are a lot of contracts and deals in place with not only television, but all the promoters and the sponsors for a certain amount of races," he said.
"So contractually we're obliged to keep doing this. I don't think it's an issue of V8 Supercars not wanting to do it. Their hands are tied."
"At the end of the day, it is what it is, and you have to race to the format," added Moffat.
"We'll be 60-60 to the end of the year, probably not too many people in this room like it, but we just have to deal with it."
Is the future in the past?
According to Moffat, the two-race format used in 2011 and 2012 would be a good place for V8s to start when looking at possible changes for 2016.
"In 2011 and 2012 we had a 120-kay race on Saturday and 200-kay race on Sunday," he said.
"For me as a driver, in the five years I've been in the championship, that format was the best. We had our hero events like Clipsal with two 250-kay races, Townsville was two 200-kay races, and the fans got into a bit of a rhythm. Everyone knew what was going on.
"But we just keep changing the format. We're probably trying to bring some teams that perform well back to the field, but it's up to the other teams to perform better so we don't have to change the format."