Get alerts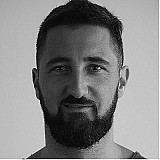 After scoring just two wins in nine seasons, Ducati's Andrea Dovizioso finds himself in the thick of the MotoGP title hunt this year. Oriol Puigdemont caught up with the Italian ahead of the Asian flyaway races.
With four victories aboard the Desmosedici GP17 this season - double the number he had prior to the start of the year - Dovizioso has transformed from occasional interloper into bona fide championship challenger.
While his hopes took a knock last time out at Aragon, where he finished seventh, he remains only 16 points behind Marc Marquez in the standings and well within striking distance of the Honda rider as the season enters its crunch phase.
Could you explain how things have changed from April's Austin race, when you invited Ducati to give up on this year's bike? 
"I don't even have a specific answer. We've been working a lot on a combination of things and the tyres are one of the keys because we know how to properly manage them even in critical moments. That made the difference and has given us a lot of motivation.
"Another key is that we've found a good base on the bike that works everywhere and that helps us to approach each weekend with a little bit of advantage. On the opposite side, our rivals didn't get it.
"Our opponents have had some ups and downs and this also explains why we are in the fight for the title. We've improved, but the others have also struggled more than usual."
How close was Ducati to giving up?
"I have to confess that until I won in Mugello, we weren't aware of the possibility of fighting for the championship. Even if you don't see yourself in the fight for the crown, you always try to win every race.
"In Italy, for sure I wasn't in the best condition from a psychological point of view, but when things are going well, you have to be ready to fight for the victory. And that's what we did.
"From there on, everything went better."
Unlike your competitors, you don't hide the work you've done on the mental side for the last two years. Why? 
"Because I love the sport and the bikes, and I'm a normal guy: very clear and sincere. All those things that make some people hide things as if they were a big secret, are not within my interest.
"I don't have any problem when admitting that I've been working on the mental side because I realised I could improve in that area. Some will consider it as a sign of weakness, but I don't see it that way." 
Are you surprised by the fact you've been able to take the fight to Marquez, Rossi, Vinales and Lorenzo this year?
"Let's say that it has surprised me, but not that much. But it's normal, as I haven't been the centre of the attention and I hadn't won many races [before this year].
"My races weren't a thing to analyse and many other things went unnoticed for the rest of the people. Now I've won four times and everyone is freaking out.
"But I am riding like always, with the same mentality and strategies as before. The difference is that now I approach life and race weekends in a better way. Now I understand better some aspects, small details that are an important influence.
"If my year is surprising, it's because the majority of people thought I wasn't at the level of the best ones, when actually I've never been that far from them. Now, with those changes, I've placed myself at the same level.
"Up until this year I didn't see myself able to fight for it. But I must confess that I've also never seen myself as people see me." 
What has changed the most: you as a rider, or the bike? 
"The bike has barely changed. It's me making the difference, especially when it comes to planning. Those small details mean a huge impact when you are fighting for such a small margin."
Are you happy with your reputation inside of Ducati?
"I'm very happy because this year it has increased. Jorge's arrival has confirmed some aspects of the bike that I had always talked about but a lot of people inside of the team didn't see that clear.
"His arrival has made everyone realise what is the reality of the bike. And that, obviously, has increased my value as a rider." 
When will you start to discuss the future with Ducati?
"We will sit down and discuss it at the beginning of next season. What is true is that the negotiation with Ducati will be different to the one of last year [when the team had to pick whether to drop Dovizioso or Andrea Iannone]."
Are you comfortable not being the focus of attention?
"In a way, it takes some pressure off me. At the beginning of the year, all the eyes were on Jorge, and that was good for me.
"To other riders it could have been inconvenient, but it wasn't the case for me. Instead of worrying about Jorge, I focused on my work and did my job, I analysed where I could improve."
Did you ever imagine things going this way?
"Yes, I did. In the winter I changed my physical training and I mentally arrived more ready than ever. The winter tests went really well and in the first race [in Qatar] I got a nice result [second].
"There I started to think about it, but I wasn't sure yet of being able to fight for the title. But I was more ready for it than in previous years."
Translation by Irene Aneas