Analysis: Why F1 is falling short on fan engagement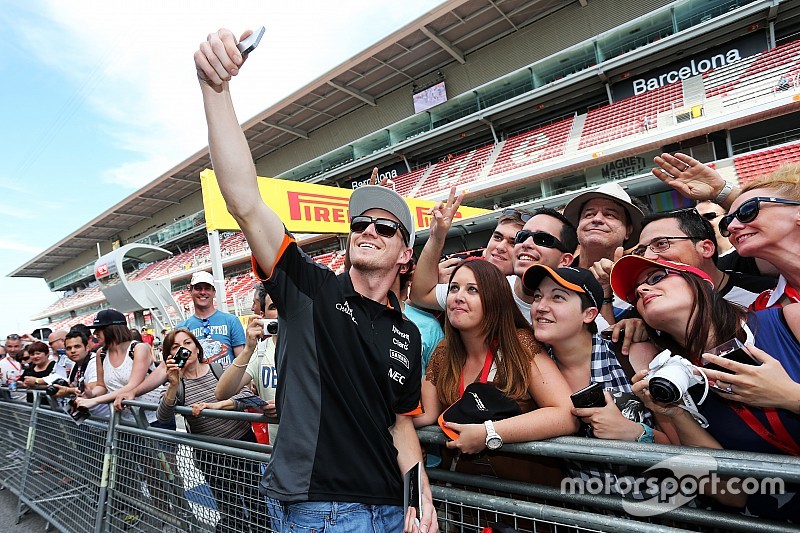 Formula 1 fans agree: the sport needs to do more to provide more value for money to those willing to invest in a ticket. Kate Walker looks at what can be done to get the fans closer to their heroes.






















From the Promotional Working Group to the Grand Prix Drivers' Association, fan engagement in Formula 1 is a topic that has been at the forefront of the minds of the sport's driving forces throughout the year so far.
As a subject, fan engagement has long been on the agenda, but it was only with the collapse of the Formula One Teams' Association and the demise of the FOTA Fan Forums that the concept of active engagement spearheaded by drivers and teams really took centre stage. With the absence of a general F1 promotional team, it was clear to all and sundry that the buck stopped with them.
The PWG spent much of the off-season discussing possible new formats for race-weekend fan engagement, from modifying press conferences to giving fans a chance to interview drivers in Q&As held around the circuit, while the GPDA released what became the largest fan survey in history.
Circuits have also got in on the action in some cases, with Albert Park introducing the 'Melbourne Walk', where fans could see drivers being interviewed and have autographs signed as the drivers made their way from car to paddock each morning.
FOM has increased its social media output, albeit slowly, while the FIA made fan engagement and access one of the key talking points at the 2015 Sports Conference Week held earlier this month in Mexico City.
Joie Chitwood, President of Daytona International Speedway, talked to the conference delegates of what he called the "content-driven live experience".
"When I think about how people are turned on to motorsport, it's usually a live experience as a fan," he said.
"If we can get you there, there's a good chance you will become a fan because you will never have seen anything like this; it's truly visceral. It's audio, it's visual, it's all of your senses. And that person turns into the fan that follows it socially, consumes it on TV, and maybe attends other events.
"When we get you to the venue, we have to make sure you're getting content that you don't get at home. It's creating a content-driven live experience. We have, I think, the best content of any sport; radio communications, in-car cameras, slow-mos, timing and scoring data."
Exclusivity an appeal
But F1 has long prided itself on its exclusivity, and back in the good old days of endless waves of sponsorship cash it was that sense of exclusivity that was said to be a major factor in the sport's appeal.
If some measure of distance is needed to pique the corporate interest that keeps Formula 1 afloat, could the high-tech sport not look to the world of technology to better engage the fan?
Of particular interest in Mexico was an interview James Allen conducted with Joe Brown, Executive Editor of the US edition of Wired, in which Brown discusses F1's approach to social media and proposes innovative solutions for bringing the fan closer to the sport with technology already on the market.
"I think there are a lot of tools [for F1 to grow a new audience]," Brown told Allen. "If you look at the way kids are experiencing everything, a lot of it is on their phones.
"It's getting to be a cliche, but you need to be on the phones if you want to reach people. You can stream some Formula 1 in an app, but it's not enough. There are new, emerging, technologies.
"The one that's exciting to me, that I'd love to see in Formula 1, is Google Cardboard. You can download the plans for free on the internet, anybody's smartphone with a big enough screen can use it, and all of a sudden you have a virtual reality visor you can make at home.
"Imagine if there was a driver point of view camera that you could use with Cardboard. This stuff is already out there, the content is made, it's on all these platforms.
"It seems like there's some low-hanging fruit that motorsport can take advantage of to really get the message out to everybody. This is such an exciting sport. Formula 1 has some of the best drivers in the world risking their lives driving at stupid speeds very, very close to each other, but it just doesn't seem from the viewer's perspective that it's that exciting.
"I'm not trying to get F1 drivers to do anything that endangers their lives more than they already are, but the audience needs to know how dangerous it is. If you think about all these social platforms, I don't know what the answer is but maybe there's an opportunity to communicate that."
Monetising social media
An oft-levied criticism of embracing social media is the difficulty of turning it into a revenue stream. Brown rubbishes the notion while acknowledging that accommodations have to be made for existing corporate cultures.
"Let's first desegregate televisions from television. I have plenty of friends who have huge big screen TVs and no cable or satellite situation. They have things like Roku, Chromecast, or other set-top boxes.
"Think about it - if there was an Apple TV channel that was just an in-car camera, and every time you switched it's 'sponsored by Coca-Cola"' These kinds of things give opportunities for monetisation in not unfamiliar ways.
"You do have to accommodate people who are going to pay for this by giving them something that's a bit familiar: display advertising, the putting up of a commercial or video or banner," Brown continued.
"That's something that companies are comfortable with, so until everything changes you need to be able to give them something they will understand. But even just using these new platforms in effective ways, you can find new opportunities for them."
There are some concerns that the ultimate home viewing experience could diminish trackside audiences, as Chitwood noted during Sport Conference Week: "I do believe that the live experience will continue to be important, but when technology continues to evolve I think it could take away from the live experience.
"I hope that isn't the case, but you could have a fan out there in the future who never attends a live sporting event, who can consume it through so many different platforms and distribution channels that they can get everything they need…
"I think you might find yourself stuck regarding who is the next generation of fan, because there is a risk that they will miss out on what's special."
Looking at the American model
Clearly there is balance to be found. Brown's desire to engage the younger fan through the innovative application of technologies the digital native generation takes for granted while also providing the trackside experience that will keep the turnstiles busy and enable the circuits to continue to operate as viable businesses.
And for that, there is more inspiration to be found in the American model, argues Racer magazine's Paul Pfanner.
"The thing that American motorsport does best, in my opinion, is it welcomes people to participate, to engage, to become involved and to become fans," Pfanner argued.
"It's really good at that. These things exist elsewhere in the world, but they're really programmed into the culture of American motorsport.
"There are all these pathways where you really can become involved. That's the engagement premise, and welcoming [fans]; and almost an invitation to young people."
Whether adopting the sort of fully-inclusive fan access that has proved so popular in America is something that will work in Formula 1 remains to be seen - recent access control restrictions have seen a drop in VIP attendees, never mind Joe Public - but it cannot be denied that more needs to be done to provide value for money to those fans willing to invest in a ticket.
Baby steps, such as those additional bits of access offered by the likes of Albert Park, enable the paddock to improve the fan experience without disturbing the status quo.
The problem is that the remote access technological solutions proposed by the likes of Brown - and which would keep many of the paddock's residents both comfortably distant and simultaneously accessible - are of the innovative variety that makes the older decision-makers wary.