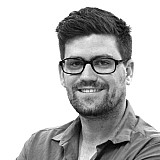 Team Penske's first foray into V8 Supercars has endured a rough start. Could its problems be solved by adding a second car for 2016? Andrew van Leeuwen investigates.
In hindsight, trying to kickstart a V8 Supercar programme with one car, a new team, and a driver who hasn't raced in the series for over a decade was always going to be difficult.
For two reasons, the decision to go for the single car model was a risky one. For starters, having two cars and two engineering teams will simply result in faster solutions being found when problems arise.
And secondly, perhaps most crucially, when the list of potential questions marks over performance extends to your driver, not having a benchmark – a control, to put it in scientific terms – makes life very difficult.
That's exactly the situation DJR Team Penske found itself in with Marcos Ambrose following the Australian Grand Prix support races. Things weren't going well, and there was no way to tell if the car was fundamentally off the pace, or whether it was Ambrose who was struggling.
Not a question of talent
Let's make one thing clear; whether or not Ambrose is a talented driver or not was never in question. The guys has done more than enough to prove that he's an excellent driver.
But V8 Supercars are so unique to drive, and more than a decade out of the driver's seat makes life difficult. At the end of the day, even Ambrose himself wasn't sure if he was doing enough behind the wheel – which is exactly why he stood down.
"It was about narrowing down the possibilities, that's exactly what it was," Ambrose told Motorsport.com in Perth.
"I didn't want to be the guy letting the team down. I didn't want to come back here and hold back this team, that's what was keeping me up at night. That's what I was worried about.
"I didn't want to be the weak link. And now we've made the choices, I've stepped aside, and the car is still not right – with either driver. We know we've got some work to do internally in our team."
Things could have been different…
Of course, had DJRTP had started out with two cars Ambrose would probably be still be racing full-time in the championship. Had he been able to go directly up against Scott Pye, a promising young talent with plenty of recent V8 Supercar experience, and matched him, Ambrose would have been confident enough in his ability to carry on.
And, given the team hasn't exactly surged up the grid since Pye replaced Ambrose, it's fair to assume that the pair would be evenly matched in a two-car environment.
When asked if he believes it would have made a difference, Ambrose's opinion is clear.
"Absolutely no doubt. If it were a two-car team, it would be a different situation, because it would allow me the year to sort of grow into it," he said.
"I'd have a good benchmark inside my own team, it would have been easy to identify if I was a problem or not, so, you know, absolutely the one-car status didn't help my cause."
Will it change?
The good news is that the potential for Penske to expand in a reasonably straightforward manner exists. The team has the hardware, and could have specifications matched by the end of the season without a problem.
And DJRTP actually owns a second Racing Entitlement Contract – the licence required to enter and race a V8 Supercar – which is currently leased to the Super Black Racing. At the end of the year that lease deal will come to end, making it simple enough for Penske to add a second car for the 2016 season.
At the end of the day, Roger Penske is a businessman and a racer. So it should be a no-brainer; the economy of running two cars makes more sense, and the performance benefits would speak for themselves.
It would also mean Ambrose's three-year deal will be utilised in the way that it should be – with a great driver on the grid.