Get alerts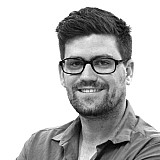 Putrajaya ePrix winner Lucas di Grassi says the Malaysian ePrix of season two was the toughest he's experienced in the category so far.
The race was affected by not only extreme temperatures that played havoc with both software and hardware, but also caused the new surface to begin to break up in parts towards the end of the race.
As a result the attrition rate was high, di Grassi the only one of the early front-runners to survive until the finish after the likes of Sebastien Buemi and Loic Duval fell away with failures, and Jerome d'Ambrosio fell foul of the marbles on the final lap.
Di Grassi later admitted that it wasn't all smooth sailing for him either, and that the heat played its part in his race too.
"My race was also compromised from the heat," he said. "I had to slow my pace down, and I think everybody had to do the same. I think we just managed to do it better.
"For me the most difficult part was to control the anxiety to try and overtake the car in front, knowing that the race was going to be very long, and you had to contain the temperatures.
"It was a patience race, and you had to be very precise because there were a lot of marbles on the track. The new asphalt was breaking away, so you had to be very precise and not make any mistakes.
"It was a very, very tough mind game, this race. I think the toughest we've had so far."
Renault still the team to beat
While Renault e.DAMS had a problematic race, a software problem ruining Buemi's race while cooling issues hampered Nicolas Prost, di Grassi pulled no punches when it came to assessing outright form.
According to the ABT Audi Sport driver, the hard work is far from done when it comes to catching up to Renault, particularly given Buemi's speed early in the race.
However, he did add that the Putrajaya performance is proof that the German squad is heading in the right direction.
"I think we've improved a lot from Beijing," said di Grassi.
"I had the fastest first and second sector in qualifying, so clearly we made a step from Beijing because we were not fast.
"Now we have to understand what we do to catch up with Renault; they are still the team to beat, it is still the car with the highest performance.
"It's good to be where we are now, but we have to get back home and started working a lot for the Punte race."