Loeb's first test in the rebuilt Peugeot 306 Maxi
Ahead of this weekend's Rallye du Var, Sebastien Loeb and his team took to the roads in the Vosges region to test with the iconic Peugeot 306 Maxi they had dismantled and then thoroughly upgrated.
Richard Monin, Sebastien Loeb Racing's engineer in charge of stripping down and building back up the car, spoke to Motorsport.com about the subsequent test.
"After putting the car back together, we started it and shook it down," Monin said. "On the day after, we defined a base set-up to start the test session. We also dealt with the weight distribution."
On that night, the team took to the road leading to Col de La Fourche, a two-hour-and-a-half drive from the SLR workshop.
This road is frequently used by rally teams – including Citroen, Hyundai and Peugeot – and is composed of very diverse corners: high-speed, low-speed, with elevation changes and quick sections that amount to quite a bit of g-force.
"We already know the car better after a first outing at Rallye Haute Provence and the demo runs at the Turckheim hillclimb," Monin said right after Loeb's first run.
"We started with a base set-up and a few adjustments when building the car back up, because it's not exactly the same as what we had before stripping it down."
Test programme
Sébastien Loeb Racing Peugeot 306 Maxi
"In anticipation of the first test session, we defined the action plan. Now, we're going to work on the dampers, the ride height at the front and rear, the wheel alignment at the front and rear, the anti-roll bars at the front and rear, the differential… many parameters.
"We depend on the driver's feeling and what we can see on the telemetry – which gives us less information than on newer cars, but still some information.
"The most important thing, in a session like this, is not to do everything at the same time. The goal is to change one or two parameters at a time, not any more, in order to see their influence, their impact on the feeling, because if we start changing everything, it's complicated.
"The first run is used to make sure the car behaves well. We validate Seb's and Daniel's positions in the car, we warm up the brakes, the tyres, and we set up the brake distribution. It's a quick check to make sure everything goes well. We start actual work from the second run onwards.
"With this car, we tried to lower the centre of gravity, placing the ballast as low as possible. Then we can put the weight wherever we want in the car, according to Seb's feeling."
A very fruitful day
Sébastien Loeb, Daniel Elena, Sébastien Loeb Racing Peugeot 306 Maxi
After a dozen runs and a fruitful, busy day, Sebastien Loeb Racing had gathered a lot of information, and was in a position to prepare for the Rally du Var in ideal fashion.
"This test day enabled us to define various possible setups and validate the fuel consumption aspect as we didn't really have points of reference in this area," Monin added.
"It also allowed us to evaluate the car's reliability, and according to this, we started preparing a workplan to start going over various details. There will be a last shakedown in the Var county, just before the rally, so that we validate potential changes."
After this long day of work, Sebastien Loeb took time to reflect on this project and the challenge he's taking up this weekend.
"I had never driven this car but I've got extraordinary memories of it," the nine-time world rally champion told Motorsport.com. "It always made me dream when I made my debut.
"I remember hearing them coming from the top of the mountain, it was noisy as hell! It's more exciting hearing them than WRC cars. It obviously made me want to drive them.
"I've been lucky enough to drive a Xsara kit car that I've always liked, but I'd always wanted to drive a 306. And when I arrived at Peugeot, I bought a 306 which the SLR team took the greatest care of.
"I was pleasantly surprised the first time I got into the car. At some point, with all the cars I've already driven in my career, I thought I was going to drive a bit of an old car.
"It's clear that it's not the same cockpit as current cars, but I expected the car to have a trick behaviour and it didn't.
"I found it to be well balanced, nice to drive, and after such a test day, I'm looking forward to some fun on some Var roads!"
While Loeb and his Peugeot 306 Maxi get ready to confront about 15 new R5s and a couple of WRC cars, two drivers will certainly pay special attention to the performance of the revamped French kit car.
Gilles Panizzi and Francois Delecour, the Peugeot 306 Maxi's two flagship drivers from the kit car era in the 90s, will take part in the Rallye du Var too.
Panizzi is tipped to fight for the overall win, driving a Peugeot 208 T16 R5, while Delecour will race an impressive Aston Martin Vantage in the GT class.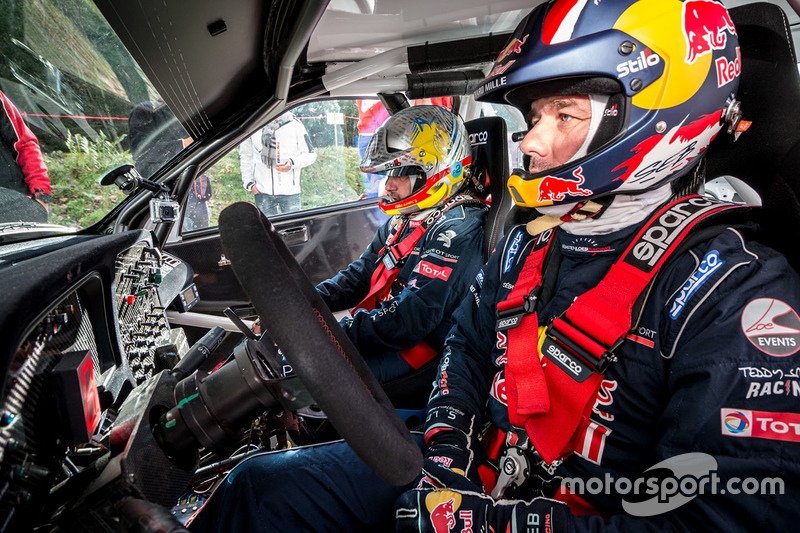 Sébastien Loeb, Daniel Elena, Sébastien Loeb Racing Peugeot 306 Maxi
Subscribe and access Motorsport.com with your ad-blocker.
From Formula 1 to MotoGP we report straight from the paddock because we love our sport, just like you. In order to keep delivering our expert journalism, our website uses advertising. Still, we want to give you the opportunity to enjoy an ad-free and tracker-free website and to continue using your adblocker.
Become a subscriber.
Disable your adblocker.