Get alerts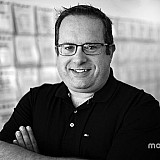 Ryan Blaney is your first Monster Energy NASCAR Cup Series points leader of the 2018 season.
Normally, that would be an accomplishment worth savoring but it comes without a victory in Sunday's Daytona 500, which Blaney came exceedingly close to winning.
Blaney rolled into the 500 as one of the favorites, having won his Daytona qualifying race on Thursday night and claimed the third starting position in the race.
He was just as good during the 500, finishing third in the first stage and then won the second. In the third, stage, Blaney took command of the race.
He led five times for a race-high 118 laps before getting caught up in a 12-car wreck with less than two laps remaining in the originally scheduled 200-lap race.
"It was just hard racing. You say it all day. I was trying to be aggressive blocking the lead and kind of fell back and got a good run back up towards it," Blaney, 24, said after the race.
"Man, (Denny Hamlin) blocked (Kurt Busch) and (Busch) kind of went high last minute and I was on his left rear and I turned him. I feel bad about that. He kind of changed lanes last minute and I couldn't react quick enough."
Blaney brought his No. 12 Team Penske Ford down pit road and his team was able to make enough repairs to allow him to return to the track for the two-lap overtime.
He still managed to come home seventh and the points he collected in the race as well as the qualifying races left him leading the Cup series standings by six points over race winner Austin Dillon.
"It stinks," he said. "We led a lot of laps. It just wasn't meant to be. But it was a good showing. Hopefully we go into Atlanta and have a decent run."
The race was Blaney's first as a full-fledged member of Team Penske. He and teammate Joey Logano both finished in the top-10 while teammate Brad Keselowski was involved in a wreck just after the halftime point of the race.
Blaney has two previous starts at Atlanta Motor Speedway in the Cup series, with a best finish of 18th last year when he was competing with the Wood Brothers.