Get alerts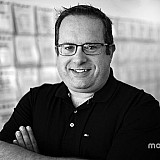 With so many of NASCAR's biggest names recently retired (Jeff Gordon, Tony Stewart and Carl Edwards) or set to (Dale Earnhardt Jr.), there is a legitimate concern of who will replace them.
Think about the last 20 years of competition in the Monster Energy NASCAR Cup Series and the vast majority of triumphs, failures, tragedies and special moments have involved at least one – and sometimes all – of the drivers mentioned.
That's a lot of championships and victories and storylines to fill.
So the question has been asked more times than I can count: "Who will replace them?"
But we're asking the wrong question.
They're already here
We already know NASCAR's next stars – they race in front of us every week. The more relevant question is, when will we take notice?
In the past several weeks, drivers like Kyle Larson, Ricky Stenhouse Jr., William Byron and John Hunter Nemechek have answered loud and clear.
When their performance demands it.
Think about it. In 1992, every NASCAR fan knew Richard Petty was retiring. But who knew who the next superstar would be? No one. But that person – Gordon – was already right in front of everyone's faces.
When did it become apparent that Gordon was a star-in-the-making? When he forced us to notice him with his superior performances once he moved to the Cup level and the rivalry that developed between his fans and those of the late Dale Earnhardt Sr.
So many today - including a columnist from the Detroit Free Press – believe NASCAR is lacking in rivalries and new personalities that can carry the sport into the future.
The instantaneous gratification nature of our society, fueled by the instantaneous reaction on social media creates the impression this is a crisis of immediate and epic proportions.
But look around at all professional sports, or even college and high school. Stars come and go and new ones emerge over time, almost always because their performance captures our attention.
The same is true in NASCAR.
A look at 2017's shining stars
Entering this season, Larson was considered a talented up-and-comer in the Cup series but over a few short months, his performance has propelled him into the spotlight.
If the season ended now, he and Martin Truex Jr. would likely be considered leading contenders for the championship and Driver of the Year honors – or both.
Who would have said that one year ago?
Byron is in his first season in the Xfinity Series and has had a solid debut, but nothing that particularly grabbed fans' attention. Now, after consecutive wins – the first and second of his career – the talk has suddenly turned to what Hendrick Motorsports Cup car he will drive in 2018.
Who would have said that one year ago? How about one month ago?
Nemechek's back-to-back wins in the Camping World Truck Series opened the spotlight on a rising talent with an inspiring story, winning against the odds while competing with an underfunded team.
Who doesn't think he has a future in this sport?
A year ago, there was talk about how much longer Roush Fenway Racing would survive after a winless streak in Cup of nearly three years.
Four months into the 2017 season, Stenhouse has the first two wins of his Cup career and will likely be a high seed when the playoffs begin this fall.
The point is this: There are always endings and beginnings and sports is no different.
It's not surprising NASCAR fans want to know who is going to carry their favorite sport into the next generation. They legitimately wonder who possibly fill the driving shoes of talents like Gordon, Stewart or Earnhardt Jr.
That same question has been asked time and time again since the sport's existence.
And the answer is always right in front of us, if we only have the patience to discover it.