Larson leads opening Cup practice at NHMS, Hamlin crashes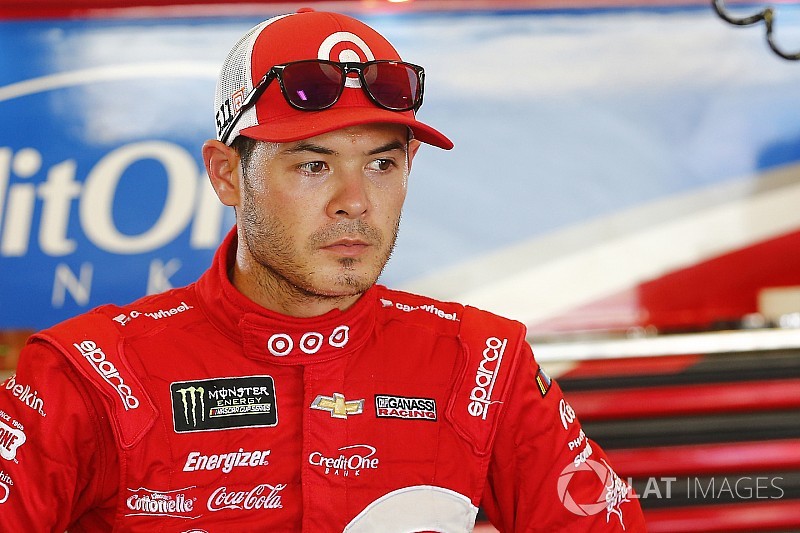 Kyle Larson topped first practice at New Hampshire Motor Speedway on Friday with a single-lap run of 133.971mph.
The absence of crew chief Chad Johnston, who was suspended for three races after failing post-race suspension following Kentucky Speedway, had no effect on the No. 42 car's speed.
Martin Truex Jr. (133.217mph) was second followed by Kyle Busch, Ryan Blaney, Jamie McMurray, Kasey Kahne, Chase Elliott, Matt Kenseth, rookie Erik Jones and Kurt Busch.
Aric Almirola was the first car on the track. He returned to competition at New Hampshire following an eight-race recovery period after fracturing his T5 vertebra following a multi-car wreck at Kansas Speedway on May 13.
After 10 minutes, 13 cars completed initial runs with Erik Jones posting the fastest lap followed by AJ Allmendinger, Almirola, Logano, Harvick, Paul Menard, Austin Dillon, Corey LaJoie, David Ragan, Chris Buescher, Ryan Newman, Daniel Suarez and Ty Dillon.
Before the 15 minute mark, called a caution for fluid on the Magic Mile.
When the track returned to competition, Kevin Harvick (129.652mph) shot to the top of the speed chart — but it was short-lived. Ryan Blaney (130.220mph) passed him followed by Logano (130.470mph).
"The exit is a little bit free but I'm having a hard time committing," said McMurray, who was eighth after five laps. "Definitely free exit."
NASCAR released drivers serving 15-minute practice for being late to pre-race inspection at Kentucky Speedway. Landon Cassill, Gray Gaulding, Cole Whitt and Michael McDowell joined the session.
Twenty-five minutes into the session, Logano remained on top followed by Blaney, Clint Bowyer, Jimmie Johnson, Kyle Larson, Denny Hamlin, Harvick, Chase Elliott, AJ Allmendinger and Kurt Busch.
Reports of sprinkles on the drivers' windshields started just before the 30-minute mark
After Almirola completed his second run and 17 laps, he lined up 24th.
"Not any better than the first run, "I'm loose into (Turn) 3 and I need more turn."
Larson (131.067mph), Hamlin, McMurray, Logano, Blaney, Bowyer, Johnson, Dale Earnhardt Jr., Kyle Busch, and Erik Jones rounded out the top 10 after the first 30 minutes.
Forty-five minutes into the 85-minute session, Kyle Busch capture the top spot with a lap of 132.665mph. Martin Truex Jr., Kasey Kahne, Matt Kenseth and Brad Keselowski.
After the first hour, Larson returned to the top with a qualifying run of 133.712mph. Kyle Busch, McMurray, Kahne, Truex, Kenseth, Allmendinger, Newman, Keselowski and Kurt Busch completed the top 10.
Hamlin wrecked on a mock qualifying coming out of Turn 4 after one hour and eight minutes into first practice to ignite the second caution. Hamlin destroyed the front end of the car after his nose hit the wall.
With 15 minutes remaining, Larson remained the fastest car followed by Truex, Busch, McMurray, Kahne, Kenseth, Allmendinger, Newman, Keselowski and Kurt Busch.
Larson leads opening Cup practice at NHMS, Hamlin crashes