Get alerts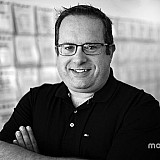 Denny Hamlin – and other Joe Gibbs Racing drivers – get this question asked a lot: Martin Truex Jr. uses JGR equipment and engines, so how is he so much better than you?
Hamlin was asked again following Sunday's Bank of America 500 at Charlotte Motor Speedway, where he finished fourth and Truex won his series-leading sixth Monster Energy NASCAR Cup Series race of the season.
Where is the edge?
Hamlin was the top-performing JGR car in the race, after starting from the pole, and led 45 laps. Kyle Busch was the only other JGR car to lead laps in the race (22) but hit the wall several times and finished 29th.
Hamlin believes Truex's advantage with his No. 78 Furniture Row Racing Toyota comes from two areas – reserve speed and the organization's ability to focus its efforts on just one car in the NASCAR playoffs.
"I think they can be a little bit off in balance and still be a little bit faster than what we are. Where I feel like the races we run competitive with him, my balance has been superb, and then I hear in our debriefing, he hated his car," Hamlin said.
"I think they've just got a little bit more speed in reserve, honestly. I mean, they build their own bodies and do their own thing out there (in Denver, Colo.).  They just use our parts to put it all together. They do a phenomenal job."
Besides Truex's six wins, he leads the series in playoff points (49), Stage wins (19) and laps led (1,977) this season.
More focus on one car
FRR is a two-car operation this season but rookie Erik Jones just missed making the playoffs. JGR is a four-car operation and has three drivers – Hamlin, Busch and Matt Kenseth – still in the title hunt.
"There's something to be said, too, about having a two-car team. They can focus more on those specific cars, and especially just one car in the playoffs," Hamlin said. "I'm sure every resource and every overtime hour is worked on the No. 78 car. 
"It's just sometimes with a four-car team it gets spread out and it takes longer for updates to happen because you can't go to the race track with, 'This is better on this car, this one is older on this car.'
"They want to have it the same for everyone, and that takes time. So, I think there's something to be said about that."
Truex enters Sunday's race at Talladega, Ala., as the top seed in the playoffs and already locked into Round 3. Hamlin, who has two wins this season, is fifth in the series standings.
The playoff field will be cut from 12 to eight following next week's race at Kansas. Both Truex and Hamlin are looking for their first series championship.