Get alerts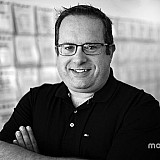 Charlotte Motor Speedway and NASCAR unveiled a change to CMS' "Roval" course, first reported by Motorsport.com in November.
On the first day of the 2018 NASCAR Media Tour, CMS announced the original 2.42-mile course has been modified to 2.28 miles, with the biggest change being the elimination of the final two turns before cars were carried back up onto the regular track in the area of Turn 1.
The change in layout is expected to reduce lap times on the course by upwards of 10 to 15 seconds, depending on tire fall-off.
"With these updates, the Roval is sure to provide the best show for the fans and the most challenging road course race for drivers," said Marcus Smith, president and CEO of Speedway Motorsports, Inc.
"We've obtained great feedback over the past year from champion drivers including Mario Andretti and Jeff Gordon, and with their help and a collaborative effort with NASCAR, Charlotte Motor Speedway is proud to showcase this brand-new course on the NASCAR schedule.
"Fans are going to see a thrill show unlike any other when September rolls around and racing comes to the Roval."
Putting a road course into the championship playoffs
The course will be used by both the Monster Energy NASCAR Cup and Xfinity series drivers in October this fall, with both races being a part of each series' respective playoff schedule.
"One of the things our fans have always asked for was a road course in the playoffs," said Steve O'Donnell, executive vice president and chief racing development officer. "I applaud Marcus for listening to that and coming up with something that was unique in that you can see the entire course.
"You're going to have somebody that is incredible excited who wins the race and we'll have controversy, which is what our fans like. I couldn't be more excited, not only about the possibilities we'll see in the playoffs but also about the industry coming together and working together on this."
Reigning Cup series champion Martin Truex Jr., who participated in a Goodyear tire test on the Roval last October, said he believed drivers were "a bit nervous" about the event.
"We don't like 'wild card races' so to speak, but definitely it's neat and interesting," Truex said. "I got the chance to do the test here and it was completely different from any race track I had ever been on.
"I'm definitely not sure who it's going to go. I hope Marcus gets the show he's looking for and I'm not the guy who's mad after the race."
O'Donnell said the exact race length is still to be determined. However, if it remains 500 kilometers (or 312 miles) as CMS had planned, that would put the race at 137 laps, making it the longest road course in NASCAR.