Understanding the ripple effect in racecar engineering
For every engineering problem in motorsport, there can be several solutions that each create new problems. If there's someone you want on your side in such circumstances, it's Arrow Schmidt Peterson Motorsports race engineer Will Anderson, writes David Malsher.
In Douglas Adams' classic Hitchhiker's Guide to the Galaxy, the robot Marvin refers to the fact that he has "a brain the size of a planet", and while Will Anderson, James Hinchcliffe's race engineer, is too modest to describe his gray matter in such ostentatious terms, it's hard not to conclude there's something other-worldly about his mental computing power. As well as trying to come up with the right compromises to set up an IndyCar for any given race track, his data juggling over the course of a weekend needs also to take into account a human element, too – the opinion of the driver.
The ripple effect Anderson refers to in the video above is based around the principle that one change will have multiple consequences. It's become known as the butterfly effect, perhaps as a result of Ray Bradbury's unnerving time-travel tale, A Sound of Thunder. In this 1952 novel, the leading character, Eckels, travels back to an era of dinosaurs, but on his return to the time machine, discovers that he's accidentally crushed a butterfly with his shoe. When he zooms back to 'present day' (2055 in the novel), he sees how drastically this one misstep has changed the world, and he gradually goes insane.
That Anderson avoids the same fate as he seeks, across a handful of practice sessions and a qualifying session, to dial in the #5 Arrow Schmidt Peterson Motorsports-Honda, can only induce respect. So just how does he come up with the 'perfect' car, for example, at Road America, the beautiful and fast 4.014-mile natural road course near Elkhart Lake, WI, that incorporates fast and slow turns but also includes long straights? Finding the fine line between trimming out the car to go quicker in a straight line but still have enough downforce not to not lose time through the turns is just the start of it.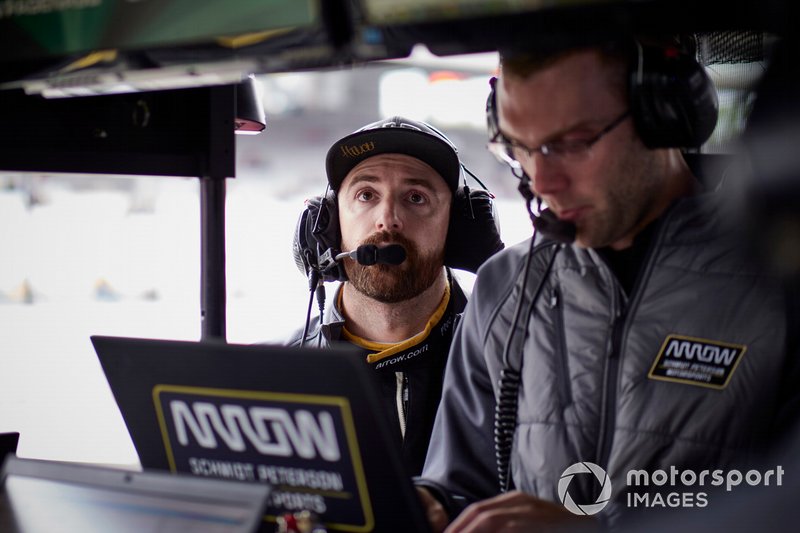 James Hinchcliffe with his, Arrow Schmidt Peterson Motorsports race engineer Will Anderson.
Photo by: Michael L. Levitt / LAT Images
"Nowadays we have it a little easier than those who had to do it in the educated guess or trial-and-error days," Anderson tells Motorsport.com. "We have simulator work and in a lot of ways that can give us direction for basic stuff like 'at what point does trimming out stop making more lap time?' It gives us and the drivers something to look at as a starting point so we can say, 'Let's do this trim, we believe it's the quickest, but we're going to have to brake earlier into Turn 1 or Turn 3 or Canada Corner, etc. instead of barreling into them without enough downforce.'
"It's more complicated than that because you can try to find more mechanical grip at the same time as you're taking downforce off, but usually the teams already have an optimized mechanical package, so there isn't a lot to gain there.
"What's tough about Road America is that you can trim your topside downforce off and there are gains to be made by running the car low [the shaped underbody of an IndyCar creates greater downforce the closer it is to the track surface], but there are very quick corners like the Carousel, Turn 13 which are also quite bumpy and that limits your ability to lower the ride-height. You can try to buy it back by running stiffer springs but at some point those moves also give up grip, so it's a very interesting series of trade-offs to consider. You're trying to run trimmed, you're trying to run low but it could induce more problems than it solves."
It's clear, therefore, that if a driver comes in and says he has too much understeer, it's not just a case of cranking on more front wing and the problem is solved. That solution can invoke new problems, and an experienced race engineer will know what those are and be able to forewarn his driver, or find a different way to resolve his issue.
"As a race engineer, you have to interpret exactly what the driver wants and where," explains Anderson. "Road America has 14 turns and they range from low- to medium- to high-speed, so they all demand something different from the car. So if in your example, a driver is asking for more front-end grip, he needs to tell you where he needs it most, because altering the center of pressure forward may make the car undriveable in the high-speed turns. So there needs to be a great emphasis on driver feedback and the dynamic between driver and race engineer."
Road America is a great case study, because with a lap that takes roughly 1min45sec, and with practice sessions only 45mins long, a team needs to be decisive and swift in its alterations to the car's balance or it will simply run out of time.
"Yeah, that's one of the biggest reasons why this track is so difficult," Anderson agrees. "We have a limited number of tires and you get two or maybe three runs per set because the track surface here gives you high tire degradation. You do a baseline run and the driver comes back and has some comments for you about what needs to be changed, and you need to have all your ducks in a row to make an improvement on your second run, because anything after that and tire degradation will start clouding your read."
That's when having an extra stream of data can be so helpful, and this weekend, Arrow SPM regulars Hinchcliffe and Marcus Ericsson are again able to pool their intel with a third source, namely, Jack Harvey of Meyer Shank Racing with Arrow SPM. But would Anderson have sufficient faith in the simulator-derived setup to start all three cars at the same point and then let the three drivers fine-tune their way to individual divergence, or does he set them off on three different paths, to cover more ground but hopefully converge on one setup that works for all?
"I think our basic road course car has been pretty competitive," says Anderson, "so I would say we started the three cars close on setup, but we didn't need them to start at exactly the same point. There may be driving characteristics that Jack and Marcus have that means they're one or two setup variations away from James, but 10 races into the season we know what they are, so we'll start them pretty close.
"Then, because of Road America being critical in terms of how few laps you can squeeze into a session due to track length, we might have a test plan for first practice. Each of the cars will try something different, and then we'll head back to the engineering truck and discuss what worked, what didn't work, and the three cars will converge again for second practice."
Road America presents a special challenge given the extreme mix of corners contained within its 4.014-miles.
Photo by: Art Fleischmann
There are times when a driver reports his car is handling fine, but the lap times aren't anything special. Then, it's up to the race engineer to persuade his driver to push harder, or find him a setup that doesn't destroy his confidence by being unsuited to his driving style, but can help produce a better lap time. Sometimes he has to do both.
Says Anderson: "My method in that circumstance is to go to Timing & Scoring which shows us which sectors we're giving time away and then probe the driver for more information. 'You say it's handling well in Turn 1, but you're three-tenths of a second off. So take me through it – What's the car doing in each part of the turn? What are you feeling?' That way I might find something that helps, and it might also prompt him to think, 'OK, I can probably push a little harder there.'"
Of course, revising the car to make it handle differently – and hopefully produce a better lap time – may also have a ripple effect right through to the cockpit, whereby the engineer has to tell his driver that his new setup will require him to drive a little differently in order to extract the car's full potential.
"That definitely happens, and the cool thing for Arrow SPM is that we have Bob Perona as a driver coach," says Anderson. "Each car group has dedicated time with him, and that completes the puzzle, in a way. If we've all converged on a very similar setup, he can point to whoever's best of the three at whichever corner he's been observing from, and point out, 'This is what he's doing and it's yielding good results.' We'll go through video, and I'll be asking James if he feels confident doing one thing at a certain corner, could he maybe try something else at another corner, and so on."
As if this jumble of parameters and multiple Rube Goldberg machine-style causes and effects weren't already enough to tax the brain, there are also different demands for qualifying and the race. The long lap and abrasive track surface at Road America means that drivers usually have that ultimate grip from the Firestone alternate compound [red-sidewalled] tires for just one lap.
"This year we've generally had really good racecars but have struggled to get that last little bit out of the tires in qualifying," Anderson admits, "but yes, you can do things to the car that get you that extra bit of grip from the tires for the one or maybe two laps needed in qualifying. They're the kinds of things that if you tried to race with that setup, it wouldn't be pretty – you'd use up the tires long before the end of a stint – but they're absolutely necessary to get that peak, that ultimate lap time in qualifying."
Some drivers have said that they even have to be careful not to warm up the 'reds' too soon on an out-lap, lest they lose peak grip before the end of their flying lap, but Anderson says there are different theories on that one.
Hinchcliffe consults with Anderson and team manager Taylor Kiel. Anderson puts great emphasis on the dynamic between driver and race engineer.
Photo by: Michael L. Levitt / LAT Images
"Deciding on how you warm up the tire will depend on what you consider the optimal moment of the tire or when and where you want it to be delivering peak grip. Some people might go really hard on the warm-up lap to energize the tires to deliver peak grip from say Turns 1 through 6, others will take it easy on the warm-up lap so that the tires aren't quite at peak grip at the start of the lap but they're giving their best from say Turn 8 through to the end of the lap.
"Honestly, it's a hard decision to make, and because it's a long lap and also has a lot of high-energy corners, it's very difficult to make the tires deliver 'ultimate grip' for all 14 turns."
The NTT IndyCar Series' track diversity is never seen to greater effect than at the start of 'official' summer time, as the teams switch from Road America, its longest circuit, to the streets of Toronto, and then the tumble-dryer fun of its shortest track, Iowa Speedway, a 0.894-mile oval. Anderson won this race with Hinchcliffe last year, but even they will admit it took until the final third of the race to find the sweet spot of the car, carve through to the front and then pull away from the chasing pack.
Short ovals – indeed, any oval – will see the aforementioned ripple effect in full flow. For instance, should a driver tell his race engineer that his right-front tire is wearing out too fast, there can be multiple ways of solving that but each will have a knock-on consequence. So which remedy is most efficient and which consequence is least undesirable?
"Oh, well, there are so many ways to solve that," Anderson chuckles. "In your instance, if James is using up his right-front too quick, that will suggest he has understeer of some sort but here again you need strong communication between the driver and the engineer. I'll ask James what other things are happening and what other handling characteristics he has. There are a lot of different ways to fix understeer but like we talked about on the road course, one of those solutions could produce other ugly consequences. So if I fixed his understeer by moving the center of pressure forward to put more weight on the front and stop it sliding up the track, that can cause the rear end to get nervous on corner entry.
Hinchcliffe in victory lane at Iowa Speedway last summer.
Photo by: Michael L. Levitt / LAT Images
"Alternatively, I could give him a softer front spring to get him more grip, but that will mean I also have to raise the front ride height so the spring doesn't compress so far that he's grounding out over the bumps, and having a raised ride-height might not be the optimal setup for the end of a stint when the tires are worn and he's having to lift off the throttle more…
"So between the race engineer and the driver, we have to ascertain what the core problem is, what are auxiliary problems as a result of that core problem, and how to fix the core problem without introducing a different set of auxiliary problems."
One of the blessings of simulator work – provided that it has been good and accurate and that the team has drawn the right conclusions and inferences from it – is that an engineer doesn't have to restrict himself to making only one change at a time to hone in on the cure potential.
"Again, I'd say engineers have it easier these days," says Anderson modestly, "because we have simulation, we have shaker rigs, we have aero maps, we have tire data – all this stuff that you can sift through and to fix this problem or that problem. In other words you can come up with a 'package' remedy so you're changing two or three things at once, and it will be based on knowledge, experience, and data you've tried in a sim beforehand.
"Maybe ovals are where you might just stick with making one change – at Indy, for example, you've got a week of practice, so you can afford to do that very methodically – but again, it's possible to have package solutions to cure certain handling characteristics on ovals, too."
If you're wondering how on earth race engineers can so swiftly understand these ripple effect causes, consequences and solutions, it isn't just down to having brains the size of planets and an ability to spontaneously improvise. Collating comprehensive data into a comprehensible format is one of the greatest 'unseen' tasks carried out by technical directors and engineers between races.
"A lot of it is down to preparation," remarks Anderson. "We do a pre-event report before every race, and mine averages probably 50 pages, and the same is true of Blair [Perschbacher, Ericsson's race engineer]. It's extremely detailed, with pre-planned changes, or, 'If this happens, we'll try that, because it may have been caused by this circumstance…' – that kind of thing. And it has to be prepared that way because with the sessions being so short, you don't have time to be hanging on the pitstand and still be thinking about what you should be doing. You need to be doing it! So if the driver reports 'X', then you know immediately what change to make."
Thus, the driver sets in motion another type of ripple effect – and speed, decisiveness and precision become as vital in pitlane and the engineering truck as they are out on track.
About Arrow Electronics
Arrow Electronics guides innovation forward for over 200,000 leading technology manufacturers and service providers. With 2018 sales of $30 billion, Arrow develops technology solutions that improve business and daily life. Learn more at fiveyearsout.com.
The Arrow Schmidt Peterson Motorsports cars of Hinchcliffe, Robert Wickens and Marcus Ericsson.
Photo by: Arrow Schmidt Peterson Motorsports
Understanding the ripple effect in racecar engineering