"Hardest" win makes up for intra-team "fights" - Vergne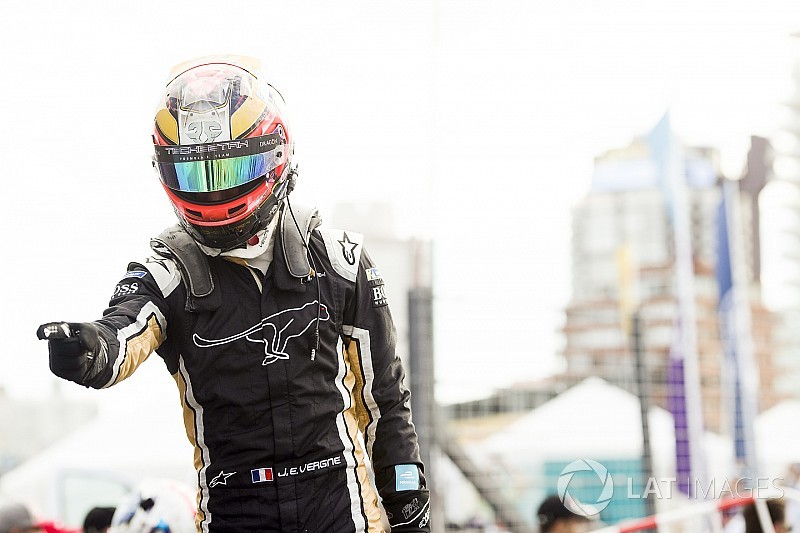 Jean-Eric Vergne believes his Punta del Este triumph - the "hardest" of his Formula E career so far - will spur on his privateer Techeetah team for the rest of the campaign.









Vergne, who set pole position on his Formula E debut in Punta del Este in 2014, started from the front of the grid once again and resisted constant pressure from a determined Lucas di Grassi to win by 0.447s.
"Winning the race today, in these conditions, against Lucas - to me one of the best drivers I've raced against - was really tough," Vergne said.
"I think I can handle pressure pretty well and today I proved to myself that I could. I didn't know if I could do it, but I did.
"I didn't make a single mistake in the whole race and I'm really pleased because of that. It was probably the hardest one [of my Formula E victories], and probably the one I'm most happy with in terms of my driving, my whole race, and what I've done with it.
"We don't have easy days right now. I'm pushing really hard and sometimes people [in the team] may not be happy, but today the win is the proof to everybody that I have a lot of pace.
"We've had some fights within the team because I sometimes push people so hard, but we're a private team and in order to beat those guys - Audi, DS [Virgin], Renault - we have to be at the top of our game.
"We have fewer resources to play with to improve the car and the powertrain. It makes me happier because now for the rest of the season everybody will push with me."
Passing at Punta "super difficult" - Di Grassi
Vergne made the better start but was shadowed by di Grassi throughout. He maintained the lead through the mandatory car swaps but had to rebuff an overtaking attempt at the penultimate corner on his out-lap, then stood firm against a barrage of attacks during the final laps.
Di Grassi, fuming after seeing his pole position time deleted for a track-limits violation in qualifying, nevertheless paid tribute to Vergne's tenacity.
"This track is really difficult to overtake on, especially if the guy in front just wants to defend," the Brazilian said. "And JEV defended very well, so there was very little margin to attack.
"There was one time he did a small mistake coming into the last sector, I tried something and we ended up touching a little bit.
"We were super-close, but on a track like this with chicanes and brakings that move around - not straight-line braking - it's super difficult to pass.
"I tried my best - really I have to thank Audi Sport, the car is super-competitive - and this will not be the last time you see us fighting for victory this season.
"I'm looking forward to the second half of the championship, and we're going to move up."
Vergne extended his championship lead to 30 points over Mahindra's Felix Rosenqvist, who finished fifth. Di Grassi's first podium of the season elevated him to 10th overall, albeit 88 points behind Vergne with six races left.
Alex Kalinauckas / Stuart Codling
"Hardest" win makes up for intra-team "fights" - Vergne