Macau GP: Da Costa passes Ilott to win qualification race
Antonio Felix da Costa pulled off a brilliant overtake on Callum Ilott on lap five of the delayed Macau Grand Prix qualification race to seal victory on Saturday.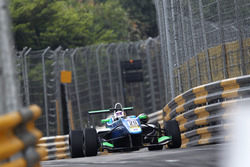 Following a lengthy hold up to clear away water that had been blown onto the track from the top of grandstands, the race was finally able to get going as marshals threw down cement dust to get rid of the moisture.
It was Ilott who had made the best getaway initially, drafting past pole position man George Russell on the run down to the first braking zone as de Costa slotted in behind him.
But the safety car was called out on the opening lap after a spectacular incident involving Daiki Sasaki and his B-Max Racing teammate Hong Li Ye.
As the cars streamed through Mandarin Bend, Maximilian Gunther and Lando Norris hit the wall on the exit, sustaining damage to their left-hand sides.
With debris scattering everywhere, the cars behind slowed – and Ye was caught out as he failed to reduce speed enough and struck the rear of Sasaki's car, launching himself over the top of his teammate.
Luckily, Ye landed on his wheels, but the racing had to be suspended so marshals could clear the straight of debris.
At the restart on lap five, da Costa tucked right in to Ilott's slipstream and managed to slingshot around the outside of the van Amersfoort driver on the run to Lisboa.
From there, da Costa put his head down and tried to open up an advantage, but Ilott would not let him go.
The gap stayed around the one second mark, but Ilott could not get close enough to the leader to challenge for the lead again, eventually finishing 0.850 seconds behind.
Da Costa said he knew his only real chance to beat Ilott was to get him at the safety car restart.
"The key was to do a good restart after the safety car," he said. "Callum did a good restart, he did all he could do, but I was just close enough and was able to pass.
"After that I was able to pull a little bit of a gap, just to keep me on the safety margin in terms of a tow." 
Ilott said that he had done all he could - and realised after a moment at the final corner in the midpoint of the race that there was no benefit from risking too much to get back the lead.
"I started to catch Antonio quite quickly and then I made a mistake at the last corner and ran quite wide," he explained. "So I dropped back and scared myself a little bit, so didn't want to push so much after.
"I started to gain a little bit again and then watched him nearly hit the wall at Lisboa under braking as he went a little bit wide. So I thought just take it easy and finish the race."
Da Costa's Carlin teammate Sergio Sette Camara finished third, having made a good start from fourth on the grid, while Japanese F3 champion Kenta Yamashita finished fourth after moving past Russell on lap nine.
Reigning Macau champion Felix Rosenqvist was sixth, ahead of fellow former event winner Dani Juncadella, Dan Ticktum, Alexander Sims and Jake Hughes.
Qualification race results:
| Pos | Driver  | Team | Time/Gap |
| --- | --- | --- | --- |
| 1  |  Antonio Felix da Costa | Carlin | 27'07.011 |
| 2  |  Callum Ilott | Van Amersfoort Racing | 0.850 |
| 3  |  Sergio Sette Camara | Carlin | 5.030 |
| 4  |  Kenta Yamashita | ThreeBond with T-Sport | 5.797 |
| 5  |  George Russell | Hitech GP | 7.351 |
| 6  |  Felix Rosenqvist | Theodore Racing by Prema | 7.889 |
| 7  |  Dani Juncadella | Hitech GP | 10.136 |
| 8  |  Dan Ticktum | Double R Racing | 17.416 |
| 9  |  Alexander Sims | Double R Racing | 17.859 |
| 10  |  Jake Hughes | Carlin | 20.564 |
| 11  |  Nick Cassidy | Theodore Racing by Prema | 21.050 |
| 12  |  Pedro Piquet | Van Amersfoort Racing | 21.358 |
| 13  |  David Beckmann | Mucke Motorsport | 21.607 |
| 14  |  Arjun Maini | Motopark | 21.996 |
| 15  |  Joel Eriksson | Motopark | 24.194 |
| 16  |  Andy Chang | ThreeBond with T-Sport | 24.940 |
| 17  |  Ferdinand Habsburg | Fortec | 26.006 |
| 18  |  Nikita Mazepin | Hitech GP | 28.215 |
| 19  |  Tadasuke Makino | Toda Racing | 31.905 |
| 20  |  Jann Mardenborough | B-Max Racing Team | 32.589 |
| 21  |  Sho Tsuboi | Team TOM'S | 33.073 |
| 22  |  Keyvan Soori | Mucke Motorsport | 34.143 |
| 23  |  Sam MacLeod | Fortec | 56.743 |
| Ret |  Daiki Sasaki | B-Max Racing Team | -  |
| Ret |  Guan Yu Zhou | Motopark | -  |
| Ret |  Maximilian Gunther | Theodore Racing by Prema | -  |
| Ret |  Lando Norris | Carlin | -  |
| Ret |  Anthoine Hubert | Van Amersfoort Racing | -  |
| Ret |  Hong Li Ye | B-Max Racing Team | -  |
Be first to get
breaking news
Macau GP: Da Costa passes Ilott to win qualification race