Five things we learned from the Australian GP
We got some answers to some big questions in Melbourne, and while the Australian Grand Prix wasn't a classic in terms of the racing, it did offer up some major talking points…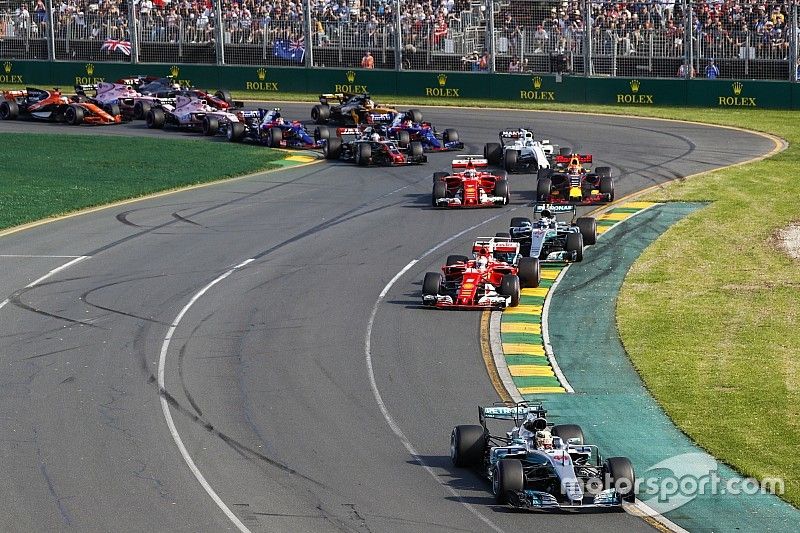 1: Pitstop timing is more critical than ever
Perhaps it was a small crumb of comfort for the Mercedes strategists to learn, post-race, that Ferrari was indeed considering an undercut on race leader Lewis Hamilton. For it was Hamilton's relatively early stop, forcing Ferrari to switch to the so-called 'overcut' strategy move, that decided the race.
Or was it?
For me, it was the fact Hamilton couldn't pass Max Verstappen – despite his horsepower advantage and being on fresh tyres – that truly cost Lewis this race. Race winner Sebastian Vettel's pace was decent, but not stellar, in the laps after Hamilton's stop.
However, Lewis's pace was badly compromised by the Red Bull, his radio messages sounding ever-more forlorn – and ending with: "No way can I get past this guy."
In hindsight, if Lewis had stayed out – and Vettel gone for the undercut – it would likely have been Vettel v Hamilton, not Vettel v Verstappen, battling through the first three corners when Lewis (and not Seb) rejoined. How would that have panned out – who knows?
Next time, expect Mercedes to be a little less willing to cave in to a "I'm struggling on these tyres" complaint…
But for Ferrari, whose aerodynamics and strategy have come in for so much criticism in recent years, this was truly a moment to stick its chest out with pride. It executed to perfection, and became a deserving winner as a result.
2: Red Bull's chassis is ultra-sensitive
Great things were expected of Adrian Newey's RB13. A genius at understanding the aerodynamics and packaging of these thoroughbred racers, especially after a rules reset, Melbourne left us a little deflated about its immediate potential for 2017.
Sure, the Renault engine lacks some ponies compared to the Mercedes and Ferrari, but an area where you expect Red Bull to shine – handling – left a lot to be desired. This was showcased by Daniel Ricciardo fencing his snappy car in Q3.
That said, Verstappen was the fastest guy on track around three-quarter distance on Sunday – but how much that had to do with Vettel et al in front of him stroking their tyres at the time is a moot point.
After the race, Red Bull's Helmut Marko allowed: "The setup of our chassis is very difficult. We make small changes and the effects are drastic ­– we suddenly go one and a half seconds faster.
"We must learn to understand that and put together the right aerodynamic parts."
Marko thinks it should be on top of things before the start of the European season, but if it suffers more disasters like that which befell Daniel Ricciardo at the weekend, that might already be too late.
3: Qualifying is exciting again
Sebastian Vettel, Ferrari tries to look at the Red Bull RB13 after qualifying
After last year's damp squib of car-by-car knockout qualifying in Australia, Melbourne served up excitement throughout the three sessions – with pole position being decided in the final runs, leaving fans on the edge of their seat until Hamilton sealed the deal in great style.
Don't forget too that Valtteri Bottas pipped Hamilton in Q2, so perhaps Lewis won't have it all his own way on Saturday afternoons from inside his own garage, never mind from Ferrari's.
Even Q1 was a thriller, with cars from five different teams falling at the first hurdle.
And, unless the cars can pass each other – perhaps with longer DRS zones (yawn) – then just maybe this is going to be a season where qualifying is actually far more interesting than the races. 
4: The midfield scrap will be mega
The showreel highlight of Melbourne's 57 laps was certainly the three-wide moment between Fernando Alonso, Esteban Ocon and Nico Hulkenberg as the trio raced hard for the final point on offer. Sure, it was sparked by Alonso's floor problem – so bad that he thought he'd got broken suspension – but the battle behind F1's big three should be a regular feature of the season.
Williams's comeback 'kid' Felipe Massa was best of the rest, not bad for a guy who wasn't even going to be on the grid this year. Force India will have a lot to say about that in races to come, especially with Massa's rookie teammate Lance Stroll continuing to "pee on the carpet once in a while" (as Jackie Stewart often says of young drivers), while Renault is making strides towards being a 'proper' manufacturer team.
Add Haas and Toro Rosso into the mix, and all we're missing is a more powerful McLaren-Honda to make it a truly epic fight for those lower points positions.
5: You can help shape F1's future
While what transpired in Melbourne wasn't terrible by any means, it was a race decided by a pass in the pits caused by tyre wear, race strategy and a winning margin of almost 10s. How do we make our sport a truly must-watch, so the races are thrilling more often than not?
The key lies with the sport's new owners and you: the fan. The sport is nothing without its followers, and it needs to listen to their thoughts and desires to help shape it.
That is why Motorsport.com announced in Melbourne that we are repeating the Global Fan Survey of 2015. With 217,000 respondents, it was the biggest sports survey in history and we made sure the sport's great and good received the benefit of all that data.
So why repeat the exercise? Well, the previous owners did listen, but times change quickly in F1. New owners, new rules – we need your help again in ensuring we get the latest feedback, so the decision-makers are better informed to make the right calls in future.
In a sport full of clever people, it's within our gift to produce great-looking cars that race well and sound amazing. And that it is delivered to you in a way you wish to consume it, whether on your TV, laptop, mobile device or at the track in person (ie: it's affordable to attend).
The new owners are listening and poised to act. So tell them here: https://f1survey.motorsport.com – the survey closes after the Chinese Grand Prix.
Subscribe and access Motorsport.com with your ad-blocker.
From Formula 1 to MotoGP we report straight from the paddock because we love our sport, just like you. In order to keep delivering our expert journalism, our website uses advertising. Still, we want to give you the opportunity to enjoy an ad-free and tracker-free website and to continue using your adblocker.
Become a subscriber.
Disable your adblocker.