Pirelli would welcome rival F1 tyre supplier
Pirelli chairman Marco Tronchetti Provera says the company would welcome competition from a rival Formula 1 tyre supplier in the future.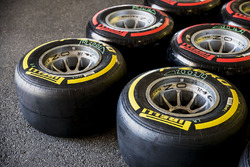 The Italian manufacturer has been F1's sole tyre supplier since it returned to the series in 2011 and currently has a deal that runs up until the end of 2019.
In a survey run by Motorsport Network, 69.4 percent of fans backed a return to tyre competition between manufacturers.
The last time F1 had more than one tyre supplier was in 2006, when Michelin and Bridgestone were involved.
When asked if Pirelli would welcome a rival supplier, Tronchetti Provera said: "We race everywhere in the world, alone and against others. We like competition.
"When we race with the others, we win. We're ready for any competition, with anybody."
However, the Pirelli chairman said it "is the teams' willingness" to retain a single supplier.
He added: "I never heard in the last years or months any will to change."
When it was suggested that tyre competition pushes costs up, Tronchetti Provera said: "It is quite expensive even without competition. But we have a lot of experience, we capitalise a lot of experience in the last few years."
Pirelli went head-to-head with Michelin for the last tender, which runs from 2017-19, with ex-F1 boss Bernie Ecclestone choosing to keep faith in the former.
The deal extends Pirelli's stay in F1 to nine seasons, with Tronchetti Provera suggesting the company is keep to continue beyond that.
"We're committed. We see F1 remaining as the most attractive race in the world. Pirelli is the largest supplier of motorsport globally."
When asked when he would have to make a decision regarding an extension, Tronchetti Provera replied: "In a year-and-a-half, more or less - halfway through [the current deal]. I don't see any issue."
Pirelli would welcome rival F1 tyre supplier