Mercedes driver, Lewis Hamilton has begun the FIA Formula 2014 season in style after pinching the pole position spot from Red Bull's new recruit, Daniel Ricciardo ahead of tomorrow's Australian Grand Prix. Hamilton was the man of the moment as he finished the best of the rest despite having to battle against his rivals, the wet weather conditions and the new car, as well as the change ...
RB10 did not have the FIA camera mountings installed as per normal.
15/03/2014 05:28
"Downsizing is the motto and I think we just need to accept that the formula has changed." - Toto Wolff.
15/03/2014 05:28
"We're not there yet, because we've had reliability problems and that caused a bit of a delay." - Remi Taffin.
15/03/2014 05:27
Mercedes might have spent a staggering EUR 500 million on the development of its turbo V6.
15/03/2014 05:27
Sebastian Vettel and Daniel Ricciardo were just 7 tenths off the leading pace.
14/03/2014 12:20
Mercedes driver shakes off morning stoppage to head timesheet in FP2, ahead of team-mate Rosberg.
14/03/2014 09:59
Luca di Montezemolo expecting the FIA to be vigilant.
14/03/2014 09:25
Top!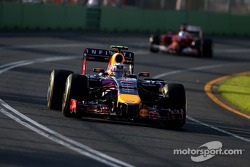 Most!
f1
Breaking news - 03/15/2014 Newey finds loophole to hide FIA nose camera
f1
Short news - 03/15/2014 Hamilton lands pole, Ricciardo second in Melbourne
Trending!
f1
Short news - 03/15/2014 Vettel sees bright side to unlucky 13