Nico Rosberg set the fastest time in the opening day of the Grand Prix de Monaco. In fact the German topped the time sheets twice to lead both FIA Formula One practices. Rosberg's best lap was in the afternoon session with a 1:14.759. His teammate Lewis Hamilton was second best with a 1:15.077. Rosberg said, "A very productive day for us. We completed a lot of laps and I feel ...
F1
Mika Hakkinen considers Red Bull would be a wise move for his countryman Kimi Raikkonen
23/05/2013 07:02
INDYCAR
Welcome to Indiana-ville - Math teacher Jay Alley breaks down the numbers for the Indianapolis 500
23/05/2013 06:05
F1
Lewis Hamilton was present later for the media interviews but he had his bulldog with him.
23/05/2013 05:45
INDYCAR
NHRA Top Fuel champion Antron Brown steps Into Ed Carpenter's pole-winning Indy 500 Car at IMS Wednesday
23/05/2013 05:41
WEC
Interview with FIA WEC Race Director Eduardo Freitas who has over 30 years of experience and has the respect of the drivers and the teams.
23/05/2013 04:19
NASCAR-CUP
Flock, Ingram, Jarrett, Petty and Roberts comprise list of new inductees
23/05/2013 01:34
INDYCAR
On Community Day at Indianapolis Motor Speedway, Sarah Fisher Hartman Racing's Josef Newgarden got the chance to explain the "Out Run the Sun" program.
23/05/2013 12:48
On fire!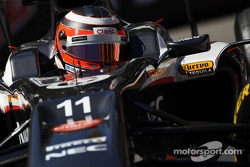 Burning!
f1
Short news - 05/23/2013 Costly day for Mercedes after Hamilton prank
Hot!
f1
Short news - 05/23/2013 Red Bull move for Raikkonen 'logical' - Hakkinen