Norbert Michelisz took the third step on the podium to confirm his third consecutive podium finish.
A podium appearance and more World Championship points was the reward for the Honda Civics performance after a tough weekend at the Salzburgring circuit in Austria.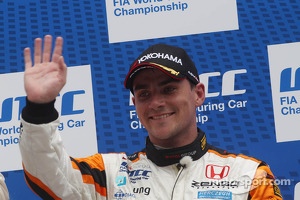 3rd position Norbert Michelisz, Honda Civic, Zengo Motorsport
Following the qualifying penalties that relegated the cars to the back of the grid for race 1, the strategy was to bring the cars home safely and then attack for race 2 when the original grids are reversed.
This placed Norbert Michelisz in the Zengo Motorsport Civic on the front row with the Castrol Honda team cars of Tiago Monteiro on the second row with Gabriele Tarquini in fifth position on row 3.
Race 1 performance was controlled as planned but the Civics did advance through the field and inherited some positions when cars ahead crashed or retired. Tarquini finished 12th followed by Monteiro and Michelisz.
Off the line from the start of race 2 Michelisz lead into the first corners before being passed by James Nash. Norbert clung on to the new leader for ten laps but could not find a way past. With two laps to go he was under further pressure from former champion Yvan Muller who stole the place on lap 10.
Michelisz took the third step on the podium to confirm his third consecutive podium finish in the recent WTCC meetings in Slovakia, Hungary and now Austria.
From the second row Tiago Monteiro powered into a close third place on the opening lap and he too held station until lap seven when Muller passed him. Tiago finished a gritty fourth and was very positive at the finish.
"We have to keep fighting for places and points. There is still a long season ahead and nothing comes easy in this competitive championship but this is why it is the actual World Championship. I really believe we can keep on collecting points right to the finish."
Tarquini's race was not so rewarding although eighth place overall although further points will be added to his Drivers Championship tally. "I had to work hard to keep positions but I lost out but we got the car home safely and can now take a little time for testing before the next WTCC race in Moscow in June."
"It was a tough weekend and little went as we expected," reports Daisuke Horiuchi, Large Project Leader for WTCC development from Honda R&D. "We had a small increase in straight line speed and will continue to refine boost and ignition controls. It is important that we look at possible improvements in aerodynamics for the next race."
Castrol Honda World Touring Car Team