Alex MacDowall press release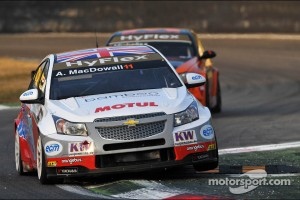 Alex MacDowall, Chevrolet Cruze 1.6T, bamboo-engineering
FIA World Touring Car Championship rookie Alex MacDowall is already aiming to challenge for his first race win in the Yokohama Independents Trophy when the second event of the season, rounds three and four, take place at Valencia in Spain next weekend, 31st March/1st April.
Having made a tremendous debut in the world championship at Monza in Italy a fortnight ago, posting second and third place Independents finishes in the two races, the 21-year-old Bamboo Engineering driver will arrive in Spain next week as joint-leader in the class standings.
As at Monza, Alex has never been to Valencia's Ricardo Tormo Circuit before but the Carlisle racer is confident any lack of track experience will be quickly overcome and he'll be able to maintain his place among the Independents Trophy pace-setters in his turbo-engined Chevrolet Cruze.
The rear-wheel drive BMW of fellow class runner Stefano D'Aste, who along with SEAT driver Pepe Oriola is tied with Alex for the lead of the Independents Trophy, is widely expected to suit the four kilometre Valencia track. Alex, though, is confident he and his Chevrolet will be a potent package.
"We can aim a bit higher at Valencia, we can definitely do better than at Monza – there I really just wanted to get the first weekend in the championship out of the way with a couple of decent results, but now I'm aiming for more", said Alex.
"I think the Cruze will be the strongest front-wheel drive car in Valencia but everyone says it's a BMW track so (Stefano) D'Aste should be strong. We need to stay out of trouble and try to pick up as many points as we can, but I'm also going there to try and win at least one race."
Following such a strong impact on his debut in WTCC – as well as being joint leader of the Yokohama Independents Trophy he is also eighth overall in the main drivers' championship and second highest placed Briton – the Cumbrian driver has certainly seen his stock rise in double-quick time.
The transition from the British Touring Car Championship to the even more intense WTCC has been very smooth so far although not without its challenges, the main difference being a need to adjust to the lack of engine-braking from the turbo Chevrolet and also getting used to the Yokohama tyres.
"I think after Monza I'm used to the car and tyres really", said Alex, "In terms of getting the raw speed, I'm fine with that, the thing to get used to is the difference with the turbo not having the engine braking of a normally aspirated car like the Cruze I had in the BTCC last year. I've had to adapt to that, the front-end is a bit heavier too, but other than that I think we're pretty much there really.
"The Dunlop tyres I ran on in the BTCC the last couple of years probably had better grip over a single lap but the Yokohamas are much more durable, more consistent through the race, so you're able to keep putting the lap times in."