The damage was terminal, bringing a somewhat underwhelming weekend to a disappointing conclusion for Rob Huff.
Rob Huff leaves Austria unfulfilled and underwhelmed following a bruising weekend at the Salzburgring (25 May) – the host venue of Rounds 9 and 10 of the 2014 FIA World Touring Car Championship (WTCC).
Two days of development in Hungary and a further three days of running in a private test at the Slovakia Ring yielded hugely positive results for Huff and his LADA Sport LUKOIL team and this was evident in the Briton's pace during free practice and qualifying on Saturday (24 May).
The gap between LADA and its rivals had clearly been reduced, although pre-planned slipstreaming tactics proved insufficient to propel Huff into the Q2 top 12 shootout and the 2012 WTCC Champion was subsequently 13th for the start of Round 9 on Sunday morning (25 May).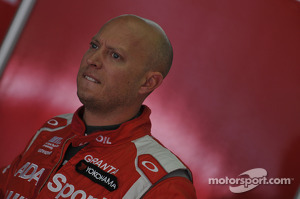 Robert Huff, LADA Granta 1.6T, LADA Sport Lukoil
With the sun beating down and temperatures soaring, enthusiastic and passionate fans flocked from far and wide.
Fans filled the grandstands to capacity and scattered the hillside in anticipation of another day of world class touring car action and the championship duly delivered.
Huff used a superior launch to surge past the Chevrolet Cruzes of Dusan Borkovic and Rene Munnich as the field rushed to the first Emcokurve chicane to find himself 11th, in the wake of Gianni Morbidelli's ALL-INKL.COM Chevy.
A typically professional and considered drive followed, although a relative lack of straight-line speed proved costly and the gap to the top ten grew rapidly as the 15-lap race wore on.
Consequently, Huff fell back into the clutches of his former team boss, Munnich; the German loomed large in Huffy's rear-view mirrors but, unwilling to put his car in danger by becoming embroiled in an unnecessary fight, the Newmarket-domiciled driver didn't put up much of a resistance.
An unfulfilled Huff finished 12th at the head of a LADA Sport LUKOIL train, his teammates, James Thompson and Mikhail Kozlovskiy, taking the finish in 13th and 14th places respectively.
Sadly, the day quite literally ended with a bang for Huff, as he and LADA stable mate Thompson piled into the Armco barriers just seconds into race two.
The spectacular start-line incident commenced with Yvan Muller being muscled off the track by fellow Citroen driver Jose Maria Lopez.
While attempting to return to the track, the Frenchman made contact with Thompson's car, igniting a series of events that culminated with spins for both LADA drivers.
The damage was terminal, bringing a somewhat underwhelming weekend to a disappointing conclusion for Huff, who said: "LADA Sport LUKOIL arrived in Austria in the knowledge that the Salzburgring wasn't going to suit our car and that proved to be the case, although we have to be positive about the progress made following two productive tests in Hungary and Slovakia. The lap times my teammates and I posted in free practice and qualifying were much more competitive, but we're still some way off mounting a challenge on the Citroens, Chevrolets and Hondas, particularly in race trim, and we need to keep pushing on.
"The straight-line speed differential between us and the Chevrolets made defending against them futile and it was better to run our own race and bring the cars home. Unfortunately, that wasn't possible in race two. I'm not sure what happened, but I was tipped into a spin off the start and ploughed into the barriers almost in sync with my teammate James (Thompson), who was a bit further up the road at the time. It's hugely disappointing to end the weekend that way, but this is motorsport and sometimes these things can't be avoided."
Rob Huff