Bamboo Engineering press release
MacDowall in joint lead after Monza debut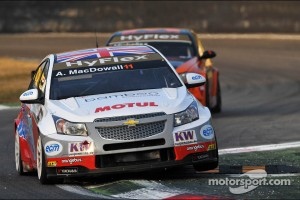 Alex MacDowall, Chevrolet Cruze 1.6T, bamboo-engineering
ALEX MacDowall leaves Monza tied at the top of the Yokohama Independents Trophy after clinching a second and a third in his first ever FIA World Touring Car Championship event.
The bamboo engineering driver opened his 2012 account in style by crossing the line second in class and eighth overall in Race One and backing it up with a class third and seventh overall in this afternoon's second race.
Fellow rookie Pasquale Di Sabatino took a seventh in class in the first race but was forced to retire one lap from home in the second after sustaining damage to his Chevrolet Cruze on track.
MacDowall started his first WTCC race from eighth on the grid but at the start was held up by a slower car. Heading into the first turn he had to take action to avoid an incident ahead of him and dropped back to 10th.
But he soon started to pick his way back up the order, storming past the BMW of Norbert Michelisz on Lap Seven into eighth and third in class. On the penultimate lap second-placed Yokohama Independents runner Aleksei Dudukalo pulled over with mechanical troubles, giving Alex second place which he held to the flag, finishing behind the SEAT of Pepe Oriola.
He started Race Two from third on the grid thanks to the new inverted grid system, behind Michelisz on pole. Despite a quick getaway he could do nothing to stop the BWM Tom Coronel charging past and dropping him to third, and within a few laps had fallen into the clutches of home hero Stefano D'Aste, also in a BMW, who squeezed him wide on Lap Four.
Alex then had a frantic lap being passed by three of the RML Chevrolets, settling down into seventh place and third in class. Up at the front Michelisz was still in command, but he hit a bird on Lap Seven and shortly after lost pace.
By now Alex was on a charge, passing D'Aste a lap later and quickly reeling in Michelisz. Going for a pass he made a small mistake which was enough to send him off onto the grass, but he salvaged the day with an impressive save to keep the car on the track. By now he had dropped to fourth in class but quickly caught and passed Michelisz once more to secure third place.
As a result he now sits in joint lead at the top of the championship table alongside Oriola and D'Aste.
"I'm happy with this, to come away from my first ever WTCC event tied at the top is great," he said. "I'm pleased with a second and third but I still think I could've won that final race had it not been for that small mistake.
"But this is the perfect start for me. I've had a lot to learn this weekend, and to leave Monza joint leader is a good way to make my debut in this championship."
For Pasquale the weekend has been a steep learning curve which he has dealt with well. Finishing seventh in class and 14th overall in the first race he had been keen to climb higher in the second. But it was a tough race for the Italian as he endured some tough dicing on track and picked up some damage which meant he had no option but to retire.
"It has been a steady weekend, I have had a lot to learn here so it has been hard work," he said. "I was happy with the first race result but was sure I could have finished higher in the second. It was a shame I had to retire."
Team Principal Richard Coleman reflected on the weekend. "It's a great, positive start to the 2012 season for us to be tied at the top of the Yokohama Independents Championship," he said.
"Alex has made a fantastic start. This was his first weekend and he was driving sensibly. In the first race he did well to come back from that incident at the start. In Race Two any one of those four drivers could have won it. Had he not had that little mistake he would probably have won but it's all luck sometimes. He made a great save and deserved that third place.
"From Pasquale's side of the garage it's been a solid start. It's still very new to him and he's struggled a bit to put the race together but he's very much up for the challenge. Once he finds his feet here and gets used to the car I'm sure he is going to become a very good touring car driver."
The bamboo engineering team head home to the UK now to prepare for the next round at Valencia in three weeks.