Rea motivated by "fear of not winning" for third WSBK title
Defending World Superbike champion Jonathan Rea says he is motivated by the "fear of not winning" this season as he seeks a third successive title.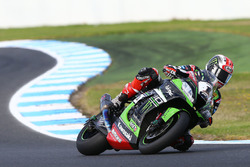 The Kawasaki rider has been the dominant force of the championship for the last two years, having won 23 races since joining the Japanese manufacturer for the 2015 season.
That year, he beat teammate Tom Sykes and Ducati's Chaz Davies to claim his maiden WSBK crown, and he successfully defended the title last year against the same opposition.
Rea begins as favourite to make it three in a row in 2017, after narrowly beating Marco Melandri to top the final pre-season tests at Phillip Island ahead of this weekend's first round of the championship.
Asked how he was keeping himself motivated, the 30-year-old said the simple fear of being beaten after two such strong campaigns was what has been driving him.
"It is different actually [going for a third championship]," Rea told Motorsport.com. "The simple answer is that I've achieved my dream, my target the first time.
"The second time, I had a lot of motivation because Kawasaki brought a new bike and there was kind of that hunger to make that bike win the championship and carry on the success.
"Now this year, it's almost the fear of not winning that's motivating me."
He added: "Obviously, because we have highly-charged males, it's a testosterone-filled sport, you don't want to lose.
"So there is that kind of drive that made me prepare even better than years before.
"Realistically, three to five guys could win the championship, so I needed to go and work my ass off in the off-season with my team and make sure I am prepared, because it could be the biggest challenge yet."
Rea admitted that seeing Ducati rival Davies dominate the final part of last year's campaign, with seven wins in the final eight races, was also a motivating factor for 2017.
"At the end of last season, we had to win a championship, but Chaz was dominant," said the Ulsterman. "What he did was incredible.
"I took a lot of motivation from that in the off-season, I left no stone unturned in my preparation and I feel like I'm in the best shape ever.
"So I feel ready, but I don't underestimate the challenge whatsoever."
Rea motivated by "fear of not winning" for third WSBK title