Van Merksteijn Motorsport press release
Peter van Merksteijn jr. looking forward to tarmac stages in WRC Rally Catalunya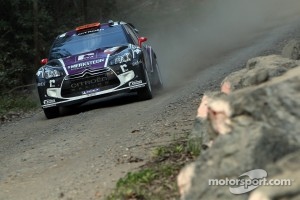 Peter van Merksteijn and Eddy Chevaillier, Citroën DS3 WRC
On the opening day of the RACC Rally Catalunya, Peter van Merksteijn jr. has been able to have a good drive through the stages among the other World Rally Championship drivers. Driving the Citroën DS3 WRC he settled in the top 20 of the strong list of entrants during this tough first day of the rally of the penultimate round of the season.
On the Friday of the Spanish round for the WRC the teams had to complete 6 difficult stages which were run partially or completely on gravel roads. On the first stage of the day the gravel caused huge problems as the fine dust was hanging above the roads due to a lack of wind and reduced visibility dramatically. As more cars completed the stages the problem became even worse and the later divers were not able to drive to the full capability of the car. On the two following stages which were mixed with tarmac, the dust was less of a problem and Peter van Merksteijn jr. could try to find his rhythm in the rally.
After Peter's mechanics made some alterations to the car during the service in the holiday town of Salou, the cars set out for a second run of the morning stages. This second passing went a lot better for Peter jr. and together with his co-driver Erwin Mombaerts he managed to climb a place in the overall standing after each special stage. The final stage of the day was run completely in the dark and again the dust caused huge problems for the drivers. With the bright lights on the cars, the drivers were blinded by their own light reflecting from the hanging dust. A competitive time was out of the question for the Van Merksteijn Motorsport driver on this stage.
Late in the evening Peter van Merksteijn jr. drove his Citroën DS3 WRC into the service park and was glad that he finished the difficult opening day. "The first stage of today was very difficult. Because of the hanging dust it was very difficult to find my pace which fortunately went better as the day progressed". About the final stage of the day Peter was brief: "This stage was not fun to drive. I am really looking forward to tomorrow when all the stages are run fully on tarmac."