Van Merksteijn Motorsport press release
Punctures stop Van Merksteijn jr. during opening day WRC Rally Australia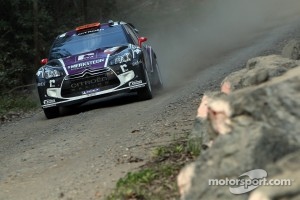 Peter van Merksteijn and Eddy Chevaillier, Citroën DS3 WRC
The opening day of the WRC Rally Australia came for Van Merksteijn Motorsport to a premature ending. During a very tough first day of the rally with a lot of rain showers and retirements, Peter van Merksteijn jr. Had to park his Citroën DS3 WRC after the 6th special stage with punctures on two wheels and was no longer able to complete the remaining stages of the day.
On Thursday evening the WRC Rally Australia kicked off with the ceremonial start in Coffs Harbour followed by a super special which the competitors had to drive twice. After some rain during the running of the stage the tarmac had become slippery but after careful driving Peter van Merksteijn jr. And his co-driver Erwin Mombaerts finished in 8th position.
On Friday morning the rally at the other end of the world continued with the first proper gravel stages. After a rain shower during the previous night the stages had become very slippery which caused a lot of problems with many drivers. On the second stage of the morning the Van Merksteijn Motorsport team realized a good 7th time under the difficult circumstances which caused world champion Sebastien Loeb, after a short distraction, to go off the road and eliminate him from a podium finish. Peter jr. drove at his own pace and brought the Citroën DS3 WRC back to the afternoon service in 8th place.
After the cars had resumed their way for the second running of the 3 special stages it started to rain again in the area where the stages were held and created a true battle zone among the teams. Rally leader Sebastien Ogier hit trouble on the first stage in the afternoon after running off the road and damaging his DS3 WRC. To prevent any further damage to the car, the Frenchman parked his car a little further along the stage in a safe place.
On this 6th special stage of the rally Peter jr. suffered from a puncture halfway through the 29 kilometer long stage and changing the wheel took over six minutes due to all the dirt that had accumulated within the wheel arch. Upon arrival at the finish of the stage another tyre of the DS3 WRC was punctured which could not be replaced anymore which meant a very disappointing premature ending to the first day for Peter jr. and Erwin. On Saturday Peter jr. will restart in the rally in an effort to claim the still available championship points for manufacturers and gain experience on the remaining stages.
"We maintained a calm pace to reach the finish of today safely and things went better with every stage. As a result of the rain there was a lot of mud on the roads which made the conditions very difficult" explained Peter van Merksteijn jr. after returning to Coffs Harbour. "Now we are going after the manufacturers points which we still can get. For Tomorrow and Sunday there are still some very beautiful stages scheduled which I want to drive."