World Rally Championship press release
SWRC Triumph for Tänak at ADAC Rallye Deutschland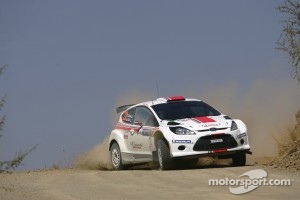 Ott Tanak and Kuldar Sikk, Ford Fiesta S2000
The Estonian crew of Ott Tänak and Kuldar Sikk took a big step towards the top of the points table as they cruised to a comfortable win in their Michelin-shod Ford Fiesta S2000 at ADAC Rallye Deutschland this weekend, the sixth round of the 2011 FIA Super 2000 World Rally Championship. Tänak's five-minute triumph over 2011 Dakar winner Nasser Al-Attiyah (QAT, Ford) earned the 2010 Pirelli Star Driver 25 SWRC points, promoting him to second place in the Championship standings, only 18 points behind series leader Juho Hänninen (FIN, Škoda). It was Tänak's second win of the season, following his excellent display at Rally d'Italia Sardegna, the third round of the Championship.
The Day One retirements of early leaders Martin Prokop (CZE, Ford) and Hänninen promoted Tänak into the lead for SS7, the opening stage of Day Two. 2009 JWRC Champion Prokop won the first stage, but then had an accident on SS2, forcing him to superally, while Hänninen hit a rock close to the end of SS6, the final stage of Day One, and lost a wheel – an accident uncannily replicated by his teammate Hermann Gassner Jnr (DEU, Škoda) - forcing him to retire on the road section back to evening service.
Having taken the lead, Tänak wasn't about to give it up and after starting Day Two with a lead of over a minute and a half, he took it cautiously as Prokop waltzed to victory on every stage of the day. The powerful Tänak's lead had grown by the end of the day though to over four minutes. On Day Three he had more freedom to attack and won his fourth stage of the event on SS17 en route to a commanding victory.
Meanwhile, Nasser Al-Attiyah (QAT, Ford), who was competing at ADAC Rallye Deutschland for the first time, was unable to reel in Tänak or intimidate the relentless Estonian. Al-Attiyah was however delighted to come home second and pick up 18 Championship points, after a tricky start to the season. Having moved into second place on SS8 his goal was simply to be safe and keep his position, and he succeeded in staying out of trouble. The 2006 PWRC Champion can now add a podium on his German début to his already-impressive CV.
6-times Hungarian Touring Car Champion Frigyes Turán (Ford) scored his second podium of the season as he came home third in the SWRC. Turán had his share of difficulties in the rally and wasn't entirely satisfied with his Fiesta's set-up on Day One, which he finished seventh in the SWRC, but showed great determination and application to hang on and start moving up the order on Days Two and Three. By the end of Day Two he had claimed third, with Hänninen – victim to Day One superally penalties – having to settle for fourth, unable to threaten his Hungarian rival from five and a half minutes behind, despite taking three out of five stage wins on Day Three.
Karl Kruuda (EST) briefly held second place behind Tänak following Hänninen's Day One accident, but a puncture on SS8 gifted the place to Al-Attiyah. Difficulties on SS13 then put Kruuda, the youngest driver in the 2011 SWRC, out of Day Two, which left him superallying on Day Three with limited possibilities. Fifth place and 10 SWRC points was a good result.
Prokop, who lay second in the Championship before the event and finished second in the SWRC on last year's ADAC Rallye Deutschland, couldn't come back from his Day One retirement, which left him almost 25 minutes behind then leader Tänak, but did finish a healthy sixth to pick up eight SWRC points.
1st – Ott Tänak (EST): "I feel good and I'm very happy. I don't know if I can win the Championship yet, but there are still two events to go so I will keep trying!"
2nd – Nasser Al-Attiyah (QAT): "It's a good feeling to finish second in the SWRC class. It was not an easy rally for me because it was my first time in Germany and we had trouble with the gearbox and flat tyres. But OK, we are here, we made it and second is a good result."
3rd – Frigyes Turán (HUN): "I was disappointed with the mistake I made on Day One, but really happy to have recovered the way I did and finish on the podium."