World Rally Championship press release
Friday SWRC wrap: Late drama hands Tanak top spot

The battle for victory in the Super 2000 World Rally Championship was turned on its head during a dramatic sixth stage on ADAC Rallye Deutschland earlier today.
Championship leader Juho Hanninen started the day-closing 19.92-kilometre Moselland test 11.9s ahead of Ott Tanak only to lose control on a patch of gravel two kilometres from the end of the run and rip the right-rear wheel from his Skoda Fabia striking a concrete block.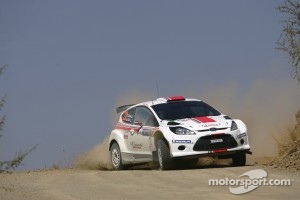 Ott Tanak and Kuldar Sikk, Ford Fiesta S2000
"It had been good before then but it was quite tricky with gravel on the corners without having markings on your pace notes," said the Finn. "We hit the concrete and lost the wheel. It was stupid."
It got worse for the Austrian Red Bull Skoda squad when Hanninen's team-mate Hermann Gassner Jr, who was third overall, ripped the right-rear wheel off his Fabia striking the same lump of concrete. With both drivers facing exclusion if they had attempted to limp back to service in Trier on three wheels, they elected to incur 10-minute SupeRally penalties for retiring from the day.
Their misfortune has handed Ott Tanak a huge boost in his efforts to claim his second victory in the SWRC this season. The Estonian was a sensational sixth fastest overall on stage two but time lost with an overshoot on the opening stage meant he was always playing catch up to Hanninen at the wheel of his MM Motorsport Ford Fiesta until his rival hit trouble.
Karl Kruuda is a distant second overnight in his Skoda to make it an Estonian one-two. The teenager suffered a spin on stage two and was also slowed by gearbox and brake issues.
Nasser Al-Attiyah is third in his Barwa World Rally Team Fiesta. The Qatari was slowed when Bernardo Sousa crashed ahead of him on stage three and is only 9.3s behind Kruuda heading into Saturday's stages. "It's my first time here so this morning has just been a learning experience for me," said Al-Attiyah.
German wildcard entrant Felix Herbold is an impressive fourth in his Fiesta, 7.5s behind Al-Attiyah. "I want to get closer to the others and keep up my speed," he said.
Hungarian Frigyes Turan is seventh after a fraught start to his rally in his MM Motorsport Fiesta. "We went off the road on stage one when I put the front right wheel off the road kilometres from the start of the stage, and ended up stopping for four minutes," he said. "Then a brake problem developed in stage two. I'm disappointed because shakedown was really good yesterday."
Martin Prokop had led after the first stage in his Fiesta only to crash heavily three kilometres into the very next stage, ripping a wheel off his car in the process. Portugal's Bernardo Sousa made it to the five-kilometre mark on stage three before he crashed and inflicted damage to the right-hand side of his Fiesta. Both drivers are expected to restart under SupeRally on day two.
Friday WRC Academy wrap: Lemes leads


Yeray Lemes is on course for his maiden FIA WRC Academy Cup victory after completing the opening day of ADAC Rallye Deutschland with a 32.4s lead in the young driver-training category for identical Ford Fiesta R2s.
The Canary Islander set the pace on four stages to head Irishman Craig Breen and Italian Andrea Crugnola at the overnight halt in Trier.
"It's great to be in the lead," said Lemes. "The car is perfect and we've had no problems. We used old tyres on the rear this morning and I'm not even driving 100 per cent, because I'm keeping in mind the fact that this rally has a long way to go. I haven't rallied on Tarmac [in the world championship] since last year so altogether I'm very happy."
Breen, who started the event joint second in the title standings with fellow Pirelli Star Driver Brendan Reeves, is a strong second. "It's gone well so far," said Breen, who was quickest on stage four. "I gave it a reasonable push but of course Yeray is giving it a big push because he doesn't have to worry about points."
Reeves, meanwhile, dropped out of contention when he slid off the road on the opening stage and got stuck for a couple of minutes. The Australian is 14th overnight.
Championship leader Egon Kaur is fifth behind Jose Suarez after losing time with a slow puncture on the first stage. For Suarez, fourth spot represents a successful start to his Rallye Deutschland challenge: "I'm very happy about being fourth at the moment," said Suarez. "The rally ends late tomorrow so there's a long way to go. I had a bit of brake trouble but everything else was fine."
Timo van der Marel is sixth with Jan Cerny, who was fastest on stage three, seventh. Sepp Wiegand, making a one-off outing in the WRC Academy in place of Christian Riedemann, is eighth with Swede Fredrik Ahlin ninth. Argentine Miguel Baldoni completes the top 10.
"I've only rallied on Tarmac once before in my life - Tarmac rallying is not allowed in Sweden," said Ahlin, part of the six-strong Pirelli Star Driver team. "I think my accident in Finland has left its mark and made me cautious early on, so it was a hard morning. Our main goal is to finish."
Alastair Fisher was a strong third overall starting stage six but a puncture has dropped him back to 11th, one place ahead of Estonian Miko-Ove Niinemae, who is competing on an asphalt rally for the first time.
Russian Sergey Karyakin, who is 13th overnight, admitted to struggling on the asphalt stages: "The Tarmac has been confusing for me, because it's my first time on the surface apart from a five-kilometre stage I once did in Estonia. I struggled to get around the hairpins because I didn't know how to use the handbrake on Tarmac. I've got a lot to learn."
Molly Taylor, who suffered an early setback when she damaged the right-rear wheel of her Fiesta hitting a pole on stage one, failed to get beyond stage four due to a broken driveshaft.