FIA press release
RALLY RACC CATALUNYA – COSTA DAURADA – RALLY DE ESPAÑA
Present:
Sébastien Loeb, Citroën Total World Rally Team
Mikko Hirvonen, Ford Abu Dhabi World Rally Team
Dani Sordo, MINI WRC Team
Sébastien Ogier, Citroën Total World Rally Team
Q: Seb, after 11 rounds of the Championship and five wins this season it seems you are back to square one, the pressure is now on!
SL: For sure the situation is a bit different from what it was a few rallies ago. I've had three bad rallies, one with a puncture, one off road and one when we broke the engine on our home rally, but that's it. I'm happy I've done a good job at the start of the season because I am still leading the Championship equal with Mikko. But for sure we have to start everything again from zero now.
Q: France must have been incredibly disappointing because it was your home event. How were you feeling after that?
SL: It was difficult to believe when I stopped in the stage that now it's over for the rally, but you have to deal with it. It's motorsport, it can happen and you cannot complain. We don't break very often something on the car, especially the engine. But it can happen, it happened in the wrong place but that's the situation. We have to push very hard now and we will see what we can do.
Q: Pushing very hard and taking risks, which at this stage in the season I suppose you don't want to be doing…
Sébastien Loeb
SL: We have to deal with the situation. We have to take some risks and accept if we take some risks we can do a mistake and the Championship is over, but that's the same for us three.
Q: There is a saying in English that bad luck comes in threes so now the bad luck should be over for you. But is it in the back of your mind that something could go wrong here?
SL: Nothing different from usual. I hope it's finished and I hope we will have a good rally here but like everybody knows there is always something that can happen in the rallies. But you do your best to make sure that nothing will happen.
Q: We have some stages which will take place in darkness but you recce'd them in daylight, how tough will that be?
SL: It is rare to do the recce in the night. I think we have some good headlights! But still we have to do the stage in the night on gravel. It's a very tricky and difficult stage even in the day because it is narrow with big stones everywhere. In the night it will be very tricky.
Q: What will be the biggest challenge on this rally?
SL: To push hard, to stay on the road and to be in front of my two rivals. It's the same for everyone because we will have to fight hard. We will not be in the best position on the first day because of the gravel stages and we know we can lose everything and that it will be difficult to catch it back on Tarmac after that. For sure we have to take risks. The most difficult thing will be to push hard with the pressure we have.
Q: Mikko, Petter Solberg's exclusion in France is your gain. You join Loeb as joint leader of the Championship. Can you take the fight to Loeb here and in GB?
MH: I'm sure we can. In any case anything can always happen. If we have a clean rally here then the fight will go all the way to GB anyway. I'm happy to be in this position after everything that has happened this year. Okay Sébastien has had bad luck and I did not think I would be in this position with two rallies to go. But everything is possible. When you get in a position when you have to fight, that's when I always find a bit more from myself. I believe if I can find the rhythm and the speed I can do it.
Q: Was there a point this season where you thought your title hopes were over?
MH: There were points in Finland when I thought Loeb really needs to have bad luck to give us a chance to get back in the fight. Surprisingly that's what happened and here we are.
Q: You mentioned the word fight there. Maybe that's not something we've seen much from you this year, that determination, that battling spirit. Can you find that and what can you do to get that back?
Rally winner Mikko Hirvonen
MH: I've just been saving it. In France many people were saying I had no speed. In France there were more people worried about it than I have been. It was a strange rally for me because it was all over for me when I made my own mistake. Suddenly Loeb was out but I knew if I made a mistake I could lose everything. I was never in a proper pace, in a proper speed or in a fighting mood. Now there is nothing else I can do and even if I am not comfortable pushing like hell I have to. I could bin it or crash in first stage but at least I am going to try.
Q: How concerned are you about the dust on the night stage on Friday? Will it be a problem?
MH: Maybe, but we have three minute gaps so I don't believe it's going to be a problem, but you never know. We had a similar stage in Greece with a three-minute gap but still there were two or three places where dust was hanging down a bit. It was a bit of a problem but we will see.
Q: There is talk, rumour and speculation about next year's driver line-up with mention of a straight swap between you and Sébastien Ogier, can you enlighten us?
MH: I haven't seen the newspaper yet so maybe you can tell me. We don't know what Ford is going to do in the future so we will have to wait and see.
Q: Dani, two podiums so far in the MINI John Cooper Works WRC but as ever the question everyone will be asking you is if you feel the car is good enough to win. What's your answer?
DS: Of course we can win. I have a good position for the first day and a good feeling with the car. In France we were quite good and so close to trying to win. I need to start the rally and try to be at the finish but at the same time try to put pressure on the others.
Q: Is there more pressure on you after the result in France (2nd)?
Daniel Sordo
DS: Of course there is a bit more pressure because at the beginning of the year we were told to drive the car and test for next year. After the podium (3rd) in Germany we felt we needed to try to do a good job in France. In France we were really close to win and now everybody is thinking 3-2-1 but it is not easy like that, and with Loeb out in France it was a little more easy. We will see.
Q: You tested at the start of this week, how did that go?
DS: I test half a day on Tarmac and half a day on gravel. I was happy with the car in both so we will see what we can do.
Q: Do you feel it was a good idea from the organisers to adopt the same format as last year with a mixture of gravel and Tarmac?
DS: For me it is not a good idea. I like more before. But it's a nice rally for the spectators and the drivers because we have more gravel. But the Tarmac is very nice here, I like a lot but we need to do this. We are professional rally drivers so we have to fight in all surfaces.
Q: Sébastien, you are just three points adrift of the lead in the Drivers' Championship, is your role still to support your team-mate?
SO: As you saw in the press, it's like this. The team decide to give more support to him and that's how it is. Mathematically everything is possible, anything can happen and I do my best. If the opportunity is there I try to take it.
Q: How does that make you feel?
SO: It's not the dream position for any driver. It's not what we like but when you are driving for a factory [team] it can happen and it's like this.
Q: Citroën could seal the Manufacturers' title here, what will be your approach during the weekend?
Sébastien Ogier
SO: I try to start with a good speed and if I can take the lead I will try and if I have to help my team-mate I will do it, but we're at the start of the rally and no one knows what can happen. There are a lot of drivers who can fight for the victory with the gravel. I just try to start with the best speed possible and see what happens.
Q: What do you think the main challenges will be here?
SO: Maybe to adapt to all the situations. It's never easy to get immediately the perfect feeling on the first stage on each surface. It will be a challenge. But I am happy the rally will be like this because it's an interesting show for the spectators. For me I like to drive on gravel so I am happy.
Q: I believe your co-driver [Julien Ingrassia] was driving himself on an event in France last week. Are you concerned he might want your seat…
SO: I think I still have a little bit more pace than him! Honestly I was surprised by his speed and we can congratulate him. It was just his second rally as a driver. He did it for fun but he did some quite good times so I am happy for him.
QUESTIONS FROM THE FLOOR
Martin Holmes
Martin Holmes Rallying, UK
Q: It's very possible that the World Championship could be decided by the result of the Power Stage. Is that a good or a bad thing?
SL: It's like that. It shows the Championship is very tight and something has to decide it. If it brings a lot of TV and promotion for rally then it's good. Rally doesn't need the Power Stage for our own Championship but if it brings something for the media then it's very good.
MH: We had all the year to make the differences and gaps and if it goes down to the wire that's how it has to be.
Juho Hanninen
SO: It's not bad if the Championship is decided by the Power Stage, because it's the stage where you have to prove your speed and push to the maximum to get points. It's good for the TV and for the interest from the fans.
FIA SUPER 2000 WORLD RALLY CHAMPIONSHIP
Present:
Juho Hänninen
Ott Tänak
Q: Juho, you lead the SWRC as we come into the final round of the Championship here in Spain, but your lead is just three points after disappointments in both France and Germany. This weekend everything needs to go right – are you feeling the pressure?
JH: Maybe some small pressure but I don't take so much pressure because it doesn't make any easier the situation. Okay I've made it more difficult with the mistakes in Germany and France so now we have to take it back and be faster than Tänak over here. It's a long rally, 400 kilometres, and you won't win it on the first stage. But it's still important to be quick all of the time to make sure you start on Sunday not too far away from the lead.
Q: You have not competed here since it has become a mixed surface event, what do you think of the format?
JH: It's like two different rallies. Tomorrow there is a long loop, you are on gravel then you have Tarmac sections and the gravel stages - especially the second time in the afternoon - will be demanding for the tyres. In the dark if it is dry a lot of dust can stay in the air.
Q: What will be the most difficult aspect of the weekend? The dust on the night stage?
JH: It's so twisty so it doesn't matter if you have pace notes or not. All the time you are in first or second gear. There are some crests but the biggest challenge will come from the dust.
Q: Are you feeling any nerves right now?
JH: It's more or less like a normal rally. It doesn't help to take any extra pressure. It's how it feels tomorrow on the first stage that's important. Okay it's a long rally and you don't win on the first stage but it's important to get a good rhythm. If you are a bit lost then you can lose a lot. I try and be relaxed over the first few stages.
Q: What would winning this title mean to you? Would it seal your future?
JH: At least it's not sealed, but honestly it can help something. But as we have seen you don't go straight to the WRC when you win the title. It's the main goal, it's the target for the team and the sponsors and that's why we are here. It's very important to win the title.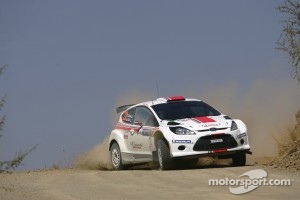 Ott Tanak and Kuldar Sikk, Ford Fiesta S2000
Q: Ott, you have won the past two full Tarmac events but this is a little different, plus you have never competed here before. How are you feeling about the weekend ahead?
OT: I don't know. The feeling is quite okay. Maybe the pressure comes tomorrow but at the moment there is no pressure.
Q: What will be your approach on the opening day?
OT: I don't know, just go and try. That's how it is. We need to do our job. We will see how the feeling is and how the car is working. That's when we make the decision of how we have to go.
Q: Which stage do you think will be the real challenge here?
OT: It is maybe the first day which is gravel and on the second day it's proper Tarmac with Tarmac cars. At the beginning of Saturday it will be strange but you have to get used to it.
Q: Do you have any nerves ahead of the event?
OT: I don't know, we are just here to do our job and to do it as well as we can. We are just looking for the result here and to push as hard as we can.
Q: What would winning the title mean to you?
OT: At the moment it's very far away. There are a long three days so I am not thinking about this.
QUESTIONS FROM THE FLOOR
Martin Holmes
Martin Holmes Rallying, UK
Q: You would be the first driver from Estonia to become a World Champion. What would that mean?
OT: For sure we have quite a lot of fans in Estonia who are looking for these rallies. It's important for every small country to have someone in the World Championship.
Benito Guerra and Borja Rozada, Mitsubishi Lancer Evo IX
FIA PRODUCTION CAR WORLD RALLY CHAMPIONSHIP
Present:
Martin Semerád
Benito Guerra
Q: Martin, currently second in the PWRC standings we saw you take a win at the start of the year and a further podium in Portugal – but it was difficult to compete with Hayden Paddon! The battle for your position is now on, how confident are you feeling ahead of this event?
MS: I hope so I am able to do that. For sure they have a better chance to chase me down with my crash in Finland. But I still have a good gap behind me but there are several drivers, not only one. I have to be very precise and make sure I gain as much points on this rally for GB.
Q: Do you feel this is an event you can do well on?
MS: We had the regular PWRC testing on Monday which went quite fine but we will have a disadvantage with the tyres on days two and three. When you have 100 years of experience, as Michelin says, it is not so easy to catch up with that after one year. It will be a disadvantage but I try to make it up with my skills on Tarmac. It is the natural surface for me because in Czech we have only Tarmac stages so I hope we don't lose too much time on days two and three.
Q: Looking back on your season, how do you feel it has gone and do you know what you will be doing next year?
MS: For sure it's a good year to be in second position but the fight is not over and there are 50 points in the game. The start of the season was incredible with two podium finishes. It was unbelievable but then it got a little bit down. There are now two events left and I have to make the most out of them and do my best to be on the podium on both of them.
Q: Do you have any plans for next year?
MS: Who knows? It depends a lot on the end of the year and the final Championship standings. As usual we are struggling with the budget for next year so we will see but of course I want to come back.
Q: Benito, you currently lie in sixth position in the PWRC standings but can still challenge for the runners-up spot. There are some strong contenders vying for the same – can you mount a challenge for it?
We have a lot of confidence in this event. It is like my home event because I have raced in Spain for the last three years.
BG: We have a lot of confidence in this event. It is like my home event because I have raced in Spain for the last three years, I have a very good car and new team in the PWRC, RMC. We should try to fight for a podium and Spain is one of my favourite rallies. But Tarmac is not my favourite kind but okay for me. We have gravel and mixed stages and the challenge will be to get more speed in connection of Tarmac with the gravel set-up. I will be trying to do my best on Friday to keep a good position at the end of the day and try and keep my position on the two Tarmac days.
Q: Looking back on your season, how do you feel it has gone?
BG: This year is my first season in the Production Championship. I have changed teams and cars for all the races and this is my fourth car this season, so it is not easy when you are changing teams and cars. The only one thing that is the same is the co-driver. It's difficult to adapt to a new engineer, a new car. I think the chances are better than ever here in Spain. I am with a good team. I have worked with them for the last two seasons and maybe I have the best chances of the year now in Spain, why not in the UK also.
Q: You have taken fourth position twice – in Portugal and Australia - can you get onto the podium this weekend?
BG: Our chances are better here in Spain. In Portugal we were very close to get a podium. We were running second and then the turbo broke. I try to fight but it's not easy because there are lots of drivers the PWRC and with Hayden Paddon it's amazing how much speed he has in all the rallies, but we are going to try. It's one of my favourite rallies in the season and I try to get a podium back to Mexico.
Q: What are your plans for next year? Would you like to return to the Championship?
BG: I really don't know. I have two important meetings after Rally of Spain. I will try to do again the Production Championship. My dream is to fight for the title next year in the Production class.