M-Sport Stobart Ford press release
Stobart Steer Clear Of Trouble On Dramatic Spanish Opener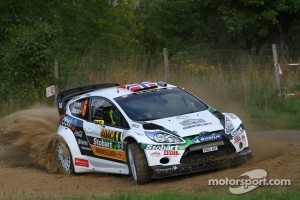 Mads Ostberg and Jonas Andersson, Ford Fiesta RS WRC, M-Sport Stobart Ford World Rally Team
M-Sport Stobart Ford's Norwegian contingent of Mads Østberg and Henning Solberg are placed seventh and eighth after the first day of action at RACC Rally de España. Team-mate Matthew Wilson lies tenth overnight in the team's other Ford Fiesta RS WRC.
The Cumbria-based team travelled north-west of the rally base in Salou where they tackled a unique selection of mixed gravel and asphalt stages totalling 160 km in the Tarragona region. Three minute gaps were introduced to eliminate problems with dust but the lack of wind meant lingering dust clouds hampered drivers' visibility throughout the morning. The gap was extended to four minutes after Service A to help create a more level playing field for the repeat afternoon pass.
Eager to keep their car out of trouble in such difficult conditions, Mads Østberg and co-driver Jonas Andersson adopted a risk-free driving approach. Østberg also had the added problem of being restricted to a Tarmac-specification differential which made for difficult handling on the day's predominantly gravel stages. The 24-year-old, however, produced a polished performance to finish the day seventh, only 10.3 seconds adrift of Kris Meeke in sixth place.
After posting the third-fastest Shakedown time, Solberg and co-driver Ilka Minor were looking to push for a top five position at the penultimate round of the WRC. However, an intermittent problem with Solberg's intercom proved challenging for the Norwegian driver who was forced to rely on his memory rather than his trusted co-driver's pacenotes. The issue was fixed before the day's closing night stage and Solberg went on to set the fourth fastest time.
Britain's Matthew Wilson and co-driver Scott Martin had a difficult morning after intermittent misfire and a gearbox problem hindered their progress on the opening loop. The team made some small changes to the gearbox and engine map during Service A and the repeat afternoon pass fared better for Wilson who pulled into the end of a challenging day to lie tenth overnight.
Tomorrow will pose another challenge for the M-Sport Stobart crews as the team's Ford Fiesta RS World Rally Cars will be transformed from gravel spec to full asphalt trim at tonight's flexi-service for the final two days of competition.
Mads Østberg said:
"It has felt like a very long day but that last stage was unbelievable! We could barely see a thing so I tried to be sensible and keep the speed down but the car took so many knocks. We had to make do with the Tarmac differential which made everything a lot harder than it could have been as the handling was all over the place. We changed the dampers and springs at service which helped for the second leg but then we still struggled with the pre-load on the rear diff. This afternoon was definitely a step forward compared to what everything felt like this morning and I'm happy to be in this position after a hard day. I didn't think I would say this but I'm actually happy to have got today's stages out the way and I look forward to moving onto full asphalt roads tomorrow."
Henning Solberg said:
"I am a happy man because we finally fixed the intercom! Stage 6 was crazy with all the dust and I don't think I would have been able to make it without the intercom working properly because I couldn't see. To drive without hearing most of the pacenotes meant I kept losing my concentration – I was trying to remember the roads as best as I could but it is very difficult to go flat out and also to think about where the road goes! Ilka was shouting as loud as she could but there was a lot of background noise so I couldn't hear much of what she was saying. Apart from that everything else is good. The car is going well and tomorrow I will push now that I will be able to hear Ilka!"
Matthew Wilson said:
"Everything was feeling a little easier this afternoon but the final stage seemed a bit ridiculous. The dust wasn't shifting and there were times when we couldn't see a thing. I kept flicking the lights on and off to try and get a better view but I felt like we were stopping and starting the whole way through the stage. We had a gear problem this morning where we couldn't get it in neutral or reverse. It would have been a real problem if we'd had a spin but the team fixed it for this afternoon and we've had no problem. The four minute gap was a relief for the second leg and the wind picked up which definitely helped move the dust quicker than this morning. I just tried to drive as cleanly as I could and it was going a lot better for us. Tomorrow is going to feel like a totally different way of driving again - we're thrown right into the deep end with the longest stage of the rally [45.97 km El Priorat] as the opening test and for sure, it's going to be a big challenge."