Rally d'Italia Sardegna
Mads Østberg has returned to points-scoring form for the M-Sport Stobart Ford World Rally Team after finishing fifth at the end of an action-packed weekend on the sun-drenched island of Sardinia.
The Cumbrian-based squad have finished in the top five of all FIA World Rally Championship rounds so far this season with Britain's Matthew Wilson finishing fifth for the team twice and Norway's Østberg finishing inside the top five on three occasions.
Fresh from his victory at the fourth round of the Norwegian Rally Championship – Rally Sørland – Østberg reported a perfect feeling in the Ford Fiesta RS WRC at the pre event Shakedown test on Thursday morning. His confidence in the car's handling was reflected by six top-five stage times on Friday's repeat loop of eight stages covering 131.06 km.
On Saturday, Østberg and co-driver Jonas Andersson set a good pace remaining in fifth for the six stages, reporting only minor set-up issues and no rear brakes for the day's closing test.
My confidence has improved now after this rally and I'm so glad we didn't have any big problems like we had in Jordan and Portugal.
Sunday morning proved difficult for the Scandinavian pairing – Østberg overshot a junction on Stage 16 due to a misheard pacenote but the 23-year-old driver held fifth throughout the day and secured himself ten well-deserved drivers' points.
Matthew Wilson enjoyed two top-five results in the previous WRC rounds in Jordan and Portugal but brake and steering issues on the rally's opening day looked like it was set to prevent the 24-year-old from securing his third successive top-five placing.
During the following two days, Wilson and co-driver Scott Martin reported a better feeling in their Fiesta RS WRC and the Cumbrian duo finished the event ninth overall.
A broken steering arm and slow puncture dropped M-Sport Stobart driver P-G Andersson out of podium contention on Friday's opening loop but the Swede returned to flying form during Saturday and Sunday.
On Sunday morning, Andersson posted two second-fastest stage times but suffered from a slow puncture on Stage 15. On the rally's final stage, Andersson hit a barrier and lost ten seconds but finished the event happy with his pace and placed 15th overall.
Evgeny Novikov and Stéphane Prevot, Ford Fiesta RS WRC
Russian flyer Evgeny Novikov proved his ability to chase the WRC front-runners when he was sitting in a career-best third place by the end of Stage 4, leading his M-Sport Stobart team-mate Østberg by an impressive 9.7 seconds.
However, the 20-year-old misheard a pacenote on Stage 7 and crashed his Fiesta RS WRC forcing Novikov and co-driver Stephane Prevot to retire. The M-Sport Stobart team worked hard overnight on Friday to repair the pair's car which had suffered extensive chassis damage.
Saturday saw Novikov post a fourth-fastest time on Stage 11 and the pairing climbed the WRC leaderboard to lie 15th overnight.
A small differential problem for Novikov on Sunday morning made the going difficult for the M-Sport Stobart driver but the Russian managed to make it to the end of the rally, finishing 13th overall.
Team-mates Henning Solberg and Ilka Minor had an unfortunate weekend after colliding with a bridge and causing damage to the rear-right damper on Friday morning. Further damage was caused to the car with a fire which was extinguished by the marshals at the stage finish and this was followed by engine problems in the afternoon.
The M-Sport Stobart team declared the damage to their Ford Fiesta RS WRC irreparable on Friday evening and regrettably Solberg was unable to return to the rally.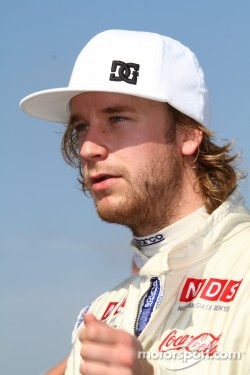 Mads Ostberg
Mads Østberg said:
"I'm happy to have made it to the end of this rally and very pleased with this result. It's been a tricky event with lots of ups and downs - we had no preload left on the rear diff on Stage 17 then a wrong pacenote meant we had a lucky escape on Stage 16. We've had a few other small problems which have stopped us from fighting at the very top. Now we need to stabilise the speed in order to make the next step closer to the others. My confidence has improved now after this rally and I'm so glad we didn't have any big problems like we had in Jordan and Portugal. Hopefully this can continue so we can try to battle with the top four in the next few rallies."
Matthew Wilson said:

"It's been a frustrating weekend. On reflection, I think if we've had a good day on Friday then we could have been able to push more for a higher position yesterday and today. If you look at Portugal and Jordan when we finished fifth, we had a good opening day so that definitely helped keep us in the game for the final two days. It's not all been bad, we've had some good stages and we've made it to the end of a difficult rally whilst many other cars didn't. To be truthful, Sardinia has never been one of my favourite rallies but hopefully we can get back to a better result when we go to Argentina as I enjoy the nature of the stages over there a lot more than I do here."
P-G Andersson said:

"After our incident on Friday, I just wanted to concentrate on getting some good stage times on the board and to try and come back stronger for the final two days. The last two days have been really good but Friday was definitely a day to forget. I've been happy with my pace on some of the stages but on that last stage we went wide and hit the first corner which lost us a bit of time when we were really wanting to push. I'm not sure what my plans are for the future in the WRC, I'm really hoping that I can do Finland but we'll just have to wait and see. Before then, I've got a couple of rallies in the IRC that I will be wanting to concentrate on first."
The last two days have been really good but Friday was definitely a day to forget.
Evgeny Novikov said:

"The weekend has been OK in general but today wasn't such a good day as we had some problems with the differential. There has been some good and bad points on this rally, I know that I can drive fast when things are going well but I just need some moreexperience in the car and I need a rally where I know the roads better. I am feeling very motivated now, the car is going well most of the time. I'm looking forward to Greece in June – I'll be wanting to push there and I'd like to finish in the top five."
M-Sport Stobart Ford Team Principal Malcolm Wilson said:

"It's great to get Mads back to where he should have been on the last couple of rallies. It's really as good a result that he could have expected this weekend and hopefully he can maintain this consistency until the next round in Argentina. Matthew hasn't quite been where he wanted this weekend but at the end of the day he still made it through a difficult rally and with some valuable points for the team. P-G and Evgeny both demonstrated a fantastic show of speed this weekend which has been very impressive and looks promising for the future."
-source: m-sport