Cordoba-Villa Carlos Paz
Strong Start For Stobart In South American Challenge

At the end of a challenging day in Argentina the M-Sport Stobart Ford World Rally Team crews of Mads Østberg and Matthew Wilson hold sixth and seventh place respectively.
Both Ford Fiesta RS WRC drivers had a clear run through the Super Special in Carlos Paz yesterday afternoon and were feeling confident ahead of their journey south-west of the service park this morning where six stages in the heart of the Traslasierra mountains awaited them.
Today's itinerary also included two passes of the legendary El Condor test, which culminated in a closing 20 km section of fast asphalt and marked the first time that the M-Sport Stobart crews had driven on asphalt in Ford's new Fiesta RS WRC.
It was an added challenge for Rally Argentina debutant Mads Østberg as he and co-driver Jonas Andersson were forced to tackle an unfamiliar set of stages whilst also contending with a new road surface.
During the repeat afternoon pass Østberg and Wilson battled for sixth place and at the end of Stage 5, only 5.7 seconds separated the team-mates. However, Østberg gradually edged ahead during the day's closing two stages to finish 32.2 seconds ahead of 24-year-old Wilson and co-driver Scott Martin.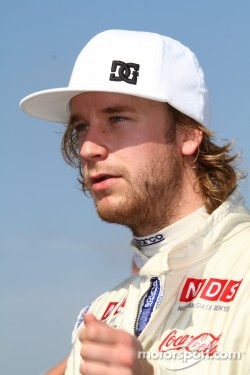 Mads Ostberg
Despite Østberg reporting today's stages as some of the roughest he has ever encountered, the 23-year-old remains only 43.2 seconds adrift of six-time World Rally Champion Sébastien Loeb who holds fifth overnight.
Mads Østberg said:
"Today has been one of the toughest days I've ever experienced – the stages were just so rough. This morning we picked up on some things that we didn't on the recce so we made a few small changes to the pacenotes before this afternoon. We were trying to get a good feeling with the car and we made some changes to the suspension and softened the front and rear. I didn't enjoy the asphalt so much this afternoon – I lost the preload on the rear diff and the power didn't feel at its best. It was quite similar to what we experienced in Jordan and it felt as if I was having to use the clutch a lot more than I needed to, hopefully the team can have a good look at the car in service tonight and everything will go more smoothly tomorrow."
Matthew Wilson said:
"Some of the stages in Argentina are awesome, the Super Special last night was loads of fun and El Mirador is definitely one of my favourites in the WRC calendar. The second stage today [Mina Clavero] has got some really twisty sections where we were losing quite a bit of time on the splits - I much prefer the faster, flowing roads as I can get into a better rhythm. A lot of gravel had been dragged on the asphalt section on El Condor this afternoon – for sure, it was difficult driving on the different road surface but it was the last 8km which seemed the most challenging. I like the stages a lot more tomorrow – they're very fast and not so twisty so hopefully we can have a clear run and our split times will be more consistent."
-source: m-sport