Prodrive WRC Team principal, Dave Wilcock, believes that Dani Sordo can achieve his second podium of the year this week in France, following a successful pre-event test in Alsace today.
Last year, Sordo led Rally France after day one and missed out on both his and MINI's first WRC victory by just six seconds. In Germany five weeks ago, Sordo was on course for a podium before an unlucky split wheel rim deflated the tyre and effectively put him out of contention.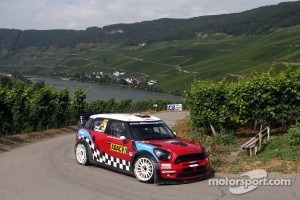 Daniel Sordo and Carlos del Barrio, Mini John Cooper Works WRC, Prodrive MINI WRC TEAM
Wilcock said: "In Germany we showed that Dani and the MINI has the pace to compete at the head of the field. Dani particularly likes the faster flowing, high speed stages we find here around Strasbourg and with the important benefit of now having a gravel notes crew, he will have the extra confidence to really push the car. In Germany it was often difficult for him to really commit without the updated notes."
Since Rally Germany, the team has introduced a new engine software calibration and enhanced the gear cut to improve shift speeds.
Sordo said: "It's the first time I have driven the car with these changes, but it feels much better and stronger. I am also really pleased the FIA has agreed all WRC cars can have gravel notes. I am sure the times will be close this week, so every little bit of time we can find will help."
World Touring Car champion, Yvan Muller, will drive the second MINI WRC. The Frenchman spent 60km behind the wheel of his car at Prodrive's proving ground in Warwickshire last week.
"Of all the rallies Yvan could compete on, then I would say that France or Spain, would best suit him," said Wilcock. "I both rode in the car with him and watched him drive last week and you could see him steadily adapting his driving style to suit the MINI's four wheel drive chassis.
I'm sure that after a few stages to settle in, he will be regularly setting top ten times and against the best rally drivers in the world that would be quite an achievement."
In Germany there will be five MINI John Cooper Works WRCs, with Motorsport Italia running cars for Chris Atkinson and Paulo Nobre while French racing driver Romain Dumas will be run by Automeca. All the teams will be based next to each other in the service park.
Source: Prodrive WRC Team