Get alerts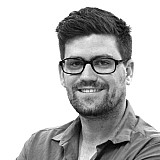 Mads Ostberg has walked away from a frightening crash during recce in Australia with two bruised ribs, but is set to compete this weekend regardless.
The factory Citroen driver was involved in the nasty incident on the last stage of yesterday's recce run, the Mitsubishi he and co-driver Jonas Andersson were sharing forced off the road and into the bush by a truck.
Luckily the pair walked away without major injury, and are set to carry on this weekend and compete as normal.
"We had an accident on the recce today," he wrote on his Facebook page.
"We met a big truck on the last stage. The road was too narrow and there was no way to avoid a crash. We have been taken care of by medical staff at the local hospital. We are okay, no serious injuries.
"We had quite the impact yesterday, but we were lucky. It could have been much worse when you look at our recce car.
"We've been cleared to continue by the medics. Luckily there were no fractures, only two bruised ribs causing me a bit of discomfort .
"So we're going to recce again today, and we'll see how it goes."