Day 2 of Rally Argentina brought 3rd place for Evgeny Novikov and fifth for Thierry Neuville
Famed as one of the toughest events in the FIA World Rally Championship, Rally Argentina failed to faze Qatar M-Sport today as Evgeny Novikov swooped in to secure the final podium position on the penultimate day's rallying. Also prospering where others faltered, Thierry Neuville moved into the top-five whilst a resurgent Mads Østberg set the stages alight.
Contesting an intelligent rally behind the wheel of his Ford Fiesta RS WRC and driving fearlessly through the mist and fog which hampered this morning's tests, Novikov and co-driver Ilka Minor improved their pace throughout the day. Establishing a comfortable lead over Andreas Mikkelsen through the morning loop, the Muscovite was ready to pounce should the front runner-runners stumble.
Evgeny Novikov and Ilka Minor, Ford Fiesta WRC, Qatar M-Sport WRT
And pounce he did. With both Mikko Hirvonen and Jari-Matti Latvala encountering problems on the second pass of 'Amboy / Yacanto' (SS9) – Hirvonen with a puncture and suspected electrical fault and Latvala a puncture – Novikov surged through to claim third place overall. Despite a slender 8.2 second lead over the Volkswagen Finn, the young Russian is on course for his best result of the season and won't let it go without a fight.
Also benefiting from a clever approach to this notoriously difficult event, Neuville and co-driver Nicolas Gilsoul ascended the leader board throughout the day. Continually improving, the Belgians were focused on their own event and keeping their Fiesta RS WRC well out of trouble.
Gaining experience and reaping the rewards of his low-risk strategy, Neuville leap-frogged a number of his more experienced rivals as he climbed from seventh to fifth place in the overall standings.
In a bitter sweet twist to the tale, Østberg and co-driver Jonas Andersson were displaying pace which could have so easily challenged the front-runners were it not for yesterday's misfortune. Running first on the road for much of the day, the Scandinavians looked comfortable behind the wheel of their Fiesta RS WRC. Posting the fastest time through SS7 followed by a second fastest time on the trickier second pass, the pairing gained four places as they ploughed through the field. Østberg now lays a comfortable seventh going in to tomorrow's final day and the all-important Power Stage.
Evgeny Novikov (3rd) said:

"I didn't expect to be in third position by the end of the day, but obviously I am very happy to be here! The stages were very difficult today – especially on the second pass – and there were a lot of rocks to look out for. Luckily we made it through with no problems.
"The plan now is to defend our position and fight to keep Jari-Matti [Latvala] behind us. It won't be easy, but we will try our best as always."
Thierry Neuville (5th) said: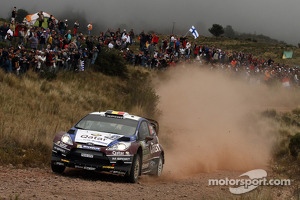 Thierry Neuville and Nicolas Gilsoul, Ford Fiesta WRC, Qatar M-Sport WRT
"After Andreas [Mikkelsen] retired [for the day] we haven't really had anything to fight for so we took it very steady and made sure we got to the end of all of the stages. There was no point in taking any big risks and I think our strategy worked well as we have gone from seventh to fifth this afternoon.
"Of course the rally is not over yet and a lot can still happen. I'm really enjoying driving the stages and everything is working well so we'll just try and keep the same rhythm for tomorrow."
Mads Østberg (7th) said:

"Today has been a lot better than yesterday! We found a new set-up [during midday service] yesterday and we confirmed today that it is working really well. I think we have been driving really well too so it has been a very good day for us.
"Unfortunately we are unable to fight for a good position, but hopefully we can set some good times and fight for some good points."
Team Principal, Malcolm Wilson OBE, said:

"It's bit of a turnaround from yesterday that's for sure! All three cars managed to avoid the problems the leaders had and it's great to be on the podium with Evgeny [Novikov]. He's had a very sensible approach to this event and it's clearly paying dividends for him. It will be difficult to keep Jari-Matti [Latvala] at bay tomorrow, but we'll certainly try and I'm sure Evgeny won't let him go without a fight."
Qatar M-Sport World Rally Team