Rally d'Italia Sardegna
Positive final outing for Daniel Oliveira in the Rally d'Italia

The Brazilian driver enjoyed a faultless drive in Sardinia Sunday's action day with the MINI WRC.
After two consecutive early retirements on Friday and Saturday's stages, Daniel Oliveira and Carlos Magalhaes could finally round off a good performance on the last day of action in the Rally d'Italia, fifth round of the World Rally Championship which concluded this Sunday in the Island of Sardinia.
Despite having only tested the WRC version of the MINI John Cooper Works for some kilometres and enduring many troubles during the weekend, Daniel could finally drive with the temperament and rhythm he had planned for this competition.
The plan for this Sunday was to make as much as he could out of the last four stages and face the toughness of the Mediterranean round with a faultless drive.
Daniel set a series of good times which enable him to regain the confidence in his driving since there is an important round like the Rally Argentina ahead, which is as demanding as this one.
The South American challenge won't be like the others. Firstly, because Daniel will be closer than ever from his beloved Brazil but also he will be driving through roads he knows well after having competing for two years in the Argentine Rally Championship. The Rally Argentina is scheduled for May 25th.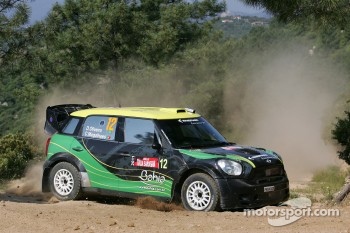 Daniel Oliveira and Carlos Magalhaes, Mini John Cooper Works, MINI WRC Team
Brazil WRT driver Daniel Oliveira said:

"For sure this wasn't the best way to make my debut in the WRC version of the MINI John Cooper Works. We have gone through a difficult weekend and we were only able to run just a few kilometres with a set-up which was far from the ideal one. Undoubtedly this event stood true to its reputation as one of the most difficult rallies.
Nevertheless, today we could drive well and calmly to get used of the car. This version have nothing to do with the one I drove before, its reactions are different, so that in the end we could learn something out of this tough test. Also today we took the opportunity to find a set-up for the Argentinean event, which is quite similar to this one. There we won't have the chance of testing, that's why we want to arrive in a good shape.
Everybody in the team remains positive and now we have a great challenge ahead. I will feel like home in Argentina, I know the roads, I have many friends there and I am confident that many Brazilian fans will be there cheering me up".
More news of the event

The Citroen's driver Sebastien Loeb claimed his second win of the season by leading over the Finish Mikko Hirvonen (Ford) and the Norwegian Petter Solberg (Citroen). With this victory, now the Frenchman extends the gap in the lead of the Championship by seven points over Hirvonen.