Stefan Mücke is third at the long track world championship and vice championship title holder with Aston Martin Racing.
Berlin/Sakhir (rol/ot) The German sports car pilot Stefan Mücke finished the FIA World Endurance Championship (WEC) on position three of the GT drivers at last.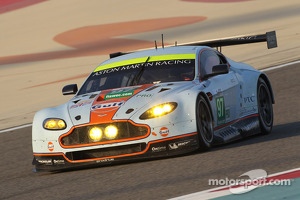 #97 Aston Martin Racing Aston Martin Vantage GTE: Darren Turner, Stefan Mücke
The Aston Martin works driver from Berlin, who shared the cockpit of the Vantage GTE V8 with his British team colleague Darren Turner at the eighth and same time last season event of the long track world championship in Bahrain, discarded with an engine damage on position two of the GTE Pro class on late Saturday evening (30th of November) about two hours before the end of the six hour race on the track in Sakhir (southern of the capital city Manama).
"Of course it is very disappointing, if you can almost feel the championship title in your hands and then discard early at the season finale due to a technical damage", Stefan Mücke said. Together with Turner, he scored three season wins as well as a second, a third and a fourth place in the GTE Pro class. In Bahrain it has been the second outage for the German British duo.
"We already knew after we had the third place at the Qualifying that it will be hard to defend the lead of the GT drivers, but we still were ahead the combatants of Ferrari", the 32 year old explained. "And we had to do the first pit stop early right at the beginning of the race, because a tire dissolved. Due to that we lost a lot of time. And we had to change our strategy to seven stints, which wasn't too bad." The Berlin made his way up to position two again, before the engine of the Vantage lost power at the third stint and he still managed it to get into the pit, but then the car broke down.
The sister car of Aston Martin Racing in the GTE Pro class also discarded one hour later and the championship titles of the team and constructor championship were scored by the combatants of Ferrari. Stefan Mücke scored the vice championship title two times, which only were a cold comfort. "We wanted to win everything but lost it at the season finale in the end.
This is very sad – also for the whole team, whose members did a great job the whole year", the Berlin said, who led in the GT drivers ranking together with Darren Turner before the WEC season finale with an advance of 5.5 points. Winners of the GTE Pro class in Bahrain have been Gianmaria Bruni (Italy) and Toni Vilander (Finland) in the Ferrari. Bruni secured the overall victory of the GT drivers ahead his Italian team colleague Giancarlo Fisichella, who finished third in the other Ferrari this time.
Stefan Mücke