It was a positive first day for Lotus at the final event of the 2012 FIA World Endurance Championship which will take place at Shanghai this weekend.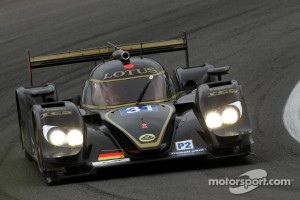 #31 Lotus Lola B12/80 Coupé: Thomas Holzer, Mirco Schultis
In the first practice session, Thomas Holzer in car #31 showed a strong performance by setting the second fastest lap time in LMP2 class.
The hydraulic problems on car #32 have been fixed for the afternoon session and James Rossiter did a best lap time of 1:55.290. The Briton was fastest in the LMP2 category with more than one second in front of the car in second place.
Vitantonio Liuzzi will not participate in the 6 Hours of Shanghai because of private reasons and will be replaced by Jan Charouz. The 25 year old race driver from Czech Republic was at the start of the 24 Hours of Le Mans this year.
Charouz was also competing in FIA WEC and winner in LMP2 class at the round in Silverstone. He will drive alongside Kevin Weeda and James Rossiter in car #32.
Mirco Schultis, Race driver #31: "I really enjoyed driving here in Shanghai today. The circuit is fun to drive, but also difficult. It is different to the other circuits this season, but we did well today.
The car feels great and was good to drive. I was able to do constant and quick lap times in comparison to the other gentlemen drivers. I am very happy and I am looking forward to the race."
Jan Charouz, Race driver #32: "I am very happy to race for Lotus LMP2 in Shanghai. I was already driving in a LMP2 car this year, so it was not a totally new experience for me. But every race car is different and I had to get used to the Lotus LMP2 and its roof.
After a few laps, I was familiar with the car and could improve lap by lap. I am looking forward to the next sessions and I hope that we will have a good race."
Source: Lotus LMP2