After a two-month break, the cars will be back in action for the fourth round of the FIA World Endurance Championship. The race being held at the 5,901 kilometers long Silverstone Circuit, that is also known as the home of British motorsport, marks the final European round of the inaugural season of the FIA WEC before the teams will head to South America and Asia.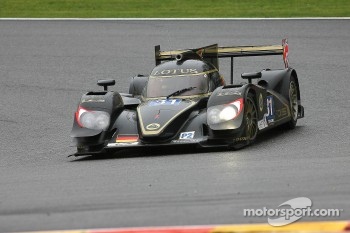 #31 Lotus Lola B12/80 Lotus: Mirco Shultis
Lotus is going to field two of its LMP2 cars again and Vitantonio Liuzzi will be at the wheel of car 32 for the first time. The Italian will drive alongside American Kevin Weeda and Briton James Rossiter, who is looking forward to driving in front of his home crowd.
The race starts at 12:00 o'clock on Sunday, 26th August 2012.
Mirco Schultis, Race Driver #31: "I have good memories of racing at the 6 Hours of Silverstone because last year, I was able to win the drivers' championship in Formula Le Mans class. It will be nice to come here again and to compete with Lotus in LMP2 class. We have worked hard in the last weeks and we hope that, after the misfortune at Le Mans, we can show a good performance."
James Rossiter, Race Driver #32: "For me it is a real home race as I live close to Silverstone and I am very looking forward to driving in front of my home crowd. It makes me proud to represent the black and gold Lotus colours here and I am very excited about that. I hope that we can repeat the great qualifying result in Spa and that we will finish the race in a good position."
Vitantonio Liuzzi, Race Driver #32: "I am very happy to get the chance to drive at the 6 Hours of Silverstone. I know the track quite well from Formula 1 races in the past. But driving here in the Lotus LMP2 car will be different, for sure. I already got experienced with the car during some test days earlier this season and I can't wait for my first race in the FIA World Endurance Championship. I want to thank Lotus for this great opportunity and I hope to have a good result in Silverstone."
Source: Lotus LMP2