Endurance star Ryan Dalziel put the Star in Starworks with a stellar show at Silverstone to turn his homecoming race into a real party.
The Scot, who now lives in Windermere in Florida, was in top form as he helped Fort Lauderdale-based Starworks Motorsport tackle the Six Hours of Silverstone in the FIA World Endurance Championship.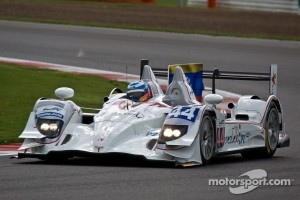 #44 Starworks Motorsport HPD ARX-03b Honda: Enzo Potolicchio, Ryan Dalziel, Stéphane Sarrazin
Ryan, originally from Lanarkshire in Scotland, teamed up with Venezuelan Enzo Potolicchio and French ace Stephane Sarrazin in the Honda HPD LMP2 car.
After qualifying second, Ryan was confident the team could build on their class wins at the opening round at Sebring in Florida and in the Le Mans 24 Hours.
He took the third stint after Stephane and Enzo, with Starworks sitting in sixth place. But Ryan produced a series of blistering laps to reel in their rivals and move up the field.
By the time he handed the car back to Stephane, they were back within 60 seconds of the leading car. Stephane managed to cut that gap to just five seconds, but in the end they had to accept second place. The result means Ryan and Starworks still lead the class in the FIA WEC going into the second half of the season.
Ryan says: "We proved again that we are fast enough. We just have to do a little better next time. I felt I put together a really good stint. When I got in the car, there were three hours to go and we were sixth. I was pretty fast and took advantage when a couple of cars had some issues. We had some good pitstops which helped me to claw some positions back.
"When I got out of the car we were a minute behind the leader. Stephane did the last hour and 20 minutes and got the gap down but it was just too little, too late.
"You have to be happy with a second place anywhere, but there is a little disappointment. It was like Spa – we had so much potential. We know we could have come away with the victory and we don't enjoy giving up any championship points, but it was a difficult weekend against a lot of local teams.
"We knew this would be tough because they would know more than we did. But we have reached the halfway point in the championship and we always felt the first half of the season as the part where we were the underdogs.
"We feel the second half will be more equal because it will be new to everyone. We will start the second half on a level playing field so, overall, we have to be happy.
"We were delighted with the crowd. It was huge and it was a real buzz to be back racing in Britain. The pit straight grandstand was probably 80 per cent full. There were loads of Scottish flags around the track and plenty of people wearing kilts, cheering me on so I am really glad that the WEC gave me the opportunity to come back to race. Hopefully, we will be back next year.
"It was really cool that my family and friends got to see me. That was a real highlight of the weekend."
Ryan was second in the Rolex 24 At Daytona and third in the Sahlen's Six Hours of The Glen, then had his first Rolex Grand-Am Sports Car Series win of the season at Watkins Glen.
Ryan is also leading Starworks Motorsport's FIA World Endurance Championship.
They started with an LMP2 class win and third place overall at Sebring in Florida before winning their class at the Le Mans 24 Hours, where Tom Kimber-Smith was in the car with Ryan and Enzo. The next round will be the Six Hours of Sao Paulo in Brazil on September 15.
Ryan also grabbed an LMPC class win and third place overall in the CORE autosport car at Long Beach in California as well as a third place in class at Mosport in Canada.
He had four Rolex Grand-Am podiums in 2011 – a win at Mid-Ohio and third at Barber, Lime Rock and Watkins Glen. He also had three fourth-place finishes. Ryan also gave Starworks Motorsport its first DP victory, at Mazda Raceway Laguna Seca, in 2008.
Source: Starworks Motorsport