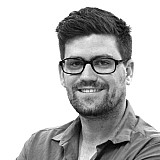 Dale Wood says he's never felt so comfortable in a V8 Supercar, after his first proper hit-out in the factory Nissan Altima.
Wood switched from Brad Jones Racing to Nissan Motorsport in the off-season, replacing Volvo-bound James Moffat in the team's fourth car.
After technically making his Nissan debut with the shakedown of team boss Rick Kelly's brand new chassis last week, Wood had his first proper hit-out in his own #96 entry at Winton on Monday – and couldn't have been happier with how it went.
"Inside the car it's super comfortable. All the time we spent with the team getting the seat and positioning right has paid off. I would say I'm happier than I've ever been inside a car," Wood told Motorsport.com.
"It is really a nice and balanced car to drive. Hopefully the speed comes with that, and we've got four competitive Nissans."
Better fit than the Commodore
While it is still early days in Wood's Nissan career, he says he can already pin-point where the car is different to a BJR Commodore.
"There are some key differences; I'm only going off a BJR Commodore, but I can feel some key differences in terms of things that this car won't do that the Holden did, and vice versa," he added.
"At the moment, I would say the traits that this car has suit me, and suit what I like from a car for my driving style."